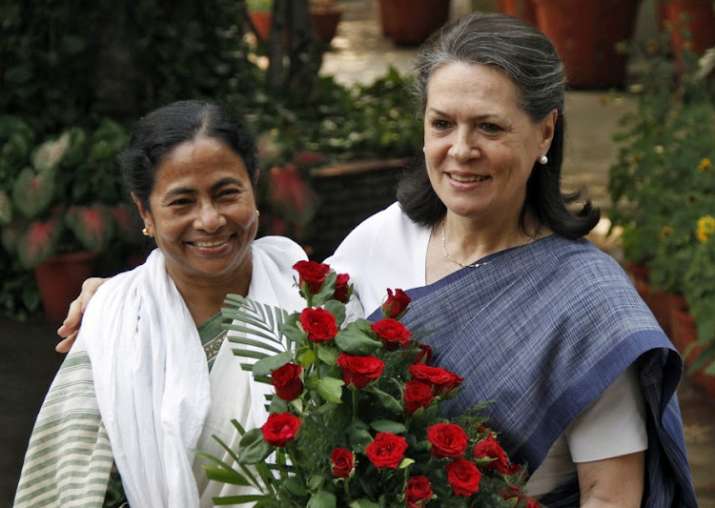 West Bengal chief minister Mamata Banerjee today said if opposition parties could not agree on a unanimous candidate for the upcoming presidential election, a "small committee" could be formed to help them select a suitable nominee.
Banerjee, who attended Congress president Sonia Gandhi's lunch for 17 opposition parties here, said no names were discussed at the lunch-cum-meeting at the Parliament House Library.
Senior opposition leaders at the meet also criticised the National Democratic Alliance (NDA) government, which marks its third year in power at the Centre today.
Congress vice-president Rahul Gandhi said that the Modi government has failed to deliver, and is therefore playing the game of "divide and distract". 
Rashtriya Janata Dal leader and former Bihar chief minister Lalu Prasad, who was among the invitees, said the NDA had "failed" on all fronts.
"Its only achievement is that it has set the Pakistan flag fluttering in Kashmir for the first time after independence," he said.
Banerjee told reporters after the lunch that the parties present criticised the "horrible" situation in Kashmir, where security forces were battling civilians, and in Uttar Pradesh's Saharanpur district, which has been witnessing caste clashes since April.
Invitations had been sent to JD(U), CPI, CPI-M, SP, DMK, NCP, RJD and TMC, besides some other big and small regional parties. The sources also said the Congress had not invited Delhi chief minister and AAP leader Arvind Kejriwal. 
The main opposition party, Congress is seeking greater unity among non-NDA parties ahead of the presidential election which could be taken forward to the upcoming assembly polls in states such as Gujarat, Himachal Pradesh and Karnataka, besides the Lok Sabha elections in 2019. 
Efforts are on to bring arch political rivals in Uttar Pradesh -- the Samajwadi Party and the Bahujan Samaj Party-- together on a common opposition platform ahead of the presidential poll. 
Several names have been doing the rounds as probable candidates. Among them are former West Bengal Governor and Mahatma Gandhi's grandson Gopal Krishna Gandhi, former JD(U) president Yadav, Former Lok Sabha speaker Meira Kumar and NCP chief Sharad Pawar. The NCP leader has, however, ruled himself out of the race. 
Nitish has also mooted a second term for incumbent Pranab Mukherjee and suggested that the ruling BJP try and build consensus on him. 
Mukherjee has, however, hinted that he will not seek another term in office. 
"I have exactly two months to go. July 25, a new President will assume office," Mukherjee said at an event yesterday. 
(With PTI inputs)