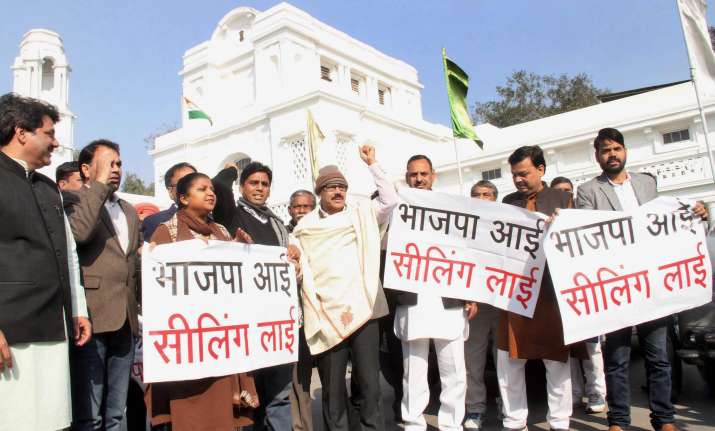 The Aam Aadmi Party seems to have jumped on to the bandwagon of traders protesting against a sealing drive with renewed aggression after the recent disqualification of 20 of its MLAs.
Delhi Chief Minister Arvind Kejriwal plans to approach the Supreme Court for a temporary ban on the sealing. Over the last week, he has addressed a press conference on the ongoing drive and demanded that the Centre come up with a law to address the problem.
He also toured markets in Delhi and interacted with traders, who announced a shutdown of some shopping areas last week in protest against the drive started by municipal corporations on the instructions of a Supreme Court-appointed monitoring committee to seal commercial units flouting the Delhi Master Plan 2021.
The party has been holding regular protests and media meets attacking the Centre, the civic bodies, the Delhi Development Authority --all controlled by the BJP-- and blaming them for the crisis.
"AAP has been with the traders ever since the problem started,"AAP's Rajya Sabha MP and senior party leader Sanjay Singh told PTI.
The campaigns come at a time when the AAP is facing the prospects of by-polls in the national capital after President Ram Nath Kovind last month disqualified 20 party MLAs accused of holding Offices of Profit.
AAP's anti-drive campaign is seen as a platform to draw the city's traders as the party appears to have lost some support on the ground.
Though it won the Bawana by-poll last year, AAP lost its deposit in the Rajouri Garden by-poll and was routed in civic body elections held the same year.
"It is true that the there is a discontent against the BJP among the traders due to the sealing drive but it would not be right to say that they will favour us," said a senior leader of AAP's Delhi unit.
Through the on-going sealing issue, however, the AAP has gathered the support of a large section of traders, many of whom were staunch backers of the BJP.
The drive has been on since December.
The AAP had raised the issue before but has been spearheading the cause of the traders vigorously after the disqualification of its lawmakers.
AAP has approached the Delhi High Court, challenging the disqualification.
It has also asked its 20 MLAs to be prepared for the by- polls.
AAP's Singh, however, said the party's anti-sealing drive had little to do with the disqualification of its MLAs.
"These are two different issues. The disqualification of 20 MLAs is being dealt with legally. The chief minister is raising the sealing issue, the MLAs and councillors are protesting and we, as MPs, are doing so in Parliament," Singh said.