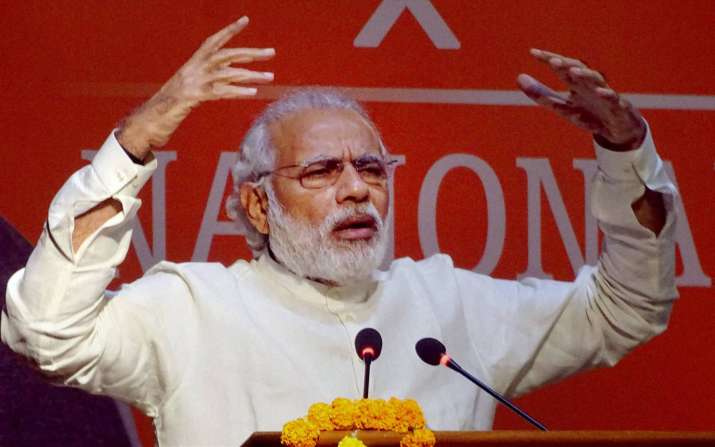 New Delhi: Prime Minister Narendra Modi on Sunday asked BJP workers not to be diverted by 'non-issues' raised from time to time by political detractors and focus on nation building by helping the poorer and weaker sections of people.
He said their sole focus should be to move ahead with government's mantra of development.
"We should not engage in irrelevant issues. We should work on our agenda. Our rivals will try that we remain engaged in irrelevant issues and the government's work is not discussed among the people. We should move ahead with one mantra: vikas, vikas, vikas. This is the answer to our country's all problems and we are working in this direction. Change is happening and the wheel of progress is moving fast. The party and government are working shoulder to shoulder," he said at the concluding session of the two-day BJP national executive meet here.
He asked BJP workers not to get involved in any controversy, and rather talk about government's initiatives. The Prime Minister said, the workers need to be positive and they should go to the people to publicize the efforts of the government for the betterment of the country.
Home Minister Rajnath Singh briefed reporters about the Prime Minister's address, which was not open to the media, and said Modi told the audience that a lot of work was done in the 22 months the party has been in power and no allegation of corruption has been levelled against it.
In an apparent dig at opposition parties, Modi cautioned party workers against those who are not happy with the government's "unprecedented" development works, saying they will rake up futile issues to make things difficult for them. "You should remain unaffected."
Asked about what Modi spoke on nationalism, a issue that has dominated the two-day meet, Singh said, "He (Modi) said nationalism is our strength... We have alsways done agitation on the issue of nationalism and moved forward. Now time has come for development. There is a need for development."
Highlighting the government's schemes, like providing LPG connection to the poor, electrification of over 6500 villages so far and disbursement of Mudra loans to lakhs of people, he asked party workers to reach out to the beneficiaries.
Earlier, moving the political resolution, Union Minister M Venkaiah Naidu hailed Modi as a "God's gift to India" but Singh insisted that it was not part of political resolution.
A statement from the Naidu's office had attributed the remarks to him in which he also called the Prime Minister messiah for the poor.
The party also announced that Modi will go to Dalit icon Bhim Rao Ambedkar's birthplace in Madhya Pradesh on his birth anniversary on April 14, a move also likely aimed at wooing crucial Dalit votes ahead of UP assembly election early next year.