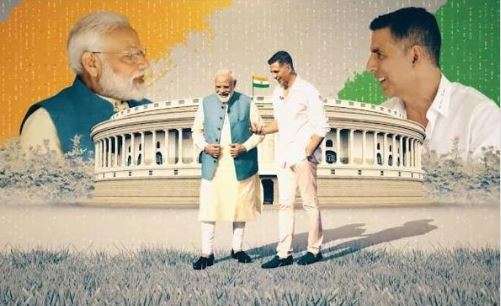 Prime Minister Narendra Modi has revealed that he had never thought of becoming India's PM. In an interview to Bollywood star Akshay Kumar at 7 Lok Kalyan Marg, PM said, "I had never thought that one day I will become the Prime Minister. I wanted to join Army." Prime Minister opened up on many aspects of his life in an interaction that lasted for almost 70 minutes. 
Here's what the Prime Minister revealed:
Speaking about social media, PM said, "I'm active on social media. I try to learn the common man's problems via social media. I also watch tweets by you (Akshay) and Twinkle (wife of Akshay Kumar)."
PM Modi during the interaction with Akshay Kumar, talked about his fashion style and said that being careful about his appearance could possibly be a psychological reaction to an inferiority complex he felt growing up poor. He also recalled that he used to wash his clothes.
Talking about his retirement plan, Modi said, "I have never thought of retirement and never will. There is no 'Alladin Ka Chiraag' in this world. Everyone has to work hard."
When the actor asked him why he wears the watch the other way round, PM Modi said, "To watch time secretly during the meetings. If I will see the wristwatch in front of someone, he may feel insulted."
PM Narendra Modi during the interaction with Akshay Kumar, also spoke about his friends in opposition parties, especially Ghulam Nabi Azad and Mamata Banerjee."Gulam Nabi Azad is my friend. Mamata didi sends me two-three kurtas in a year. I never insult anyone. I keep my point in a balanced manner. I'm a disciplined person," PM Modi said.
PM Modi also talked about the games he played in childhood. "I like to play games which involve group activities. If you want to learn in life, play games which involve group activities. I also like to swim. Used to do it," the prime minister said.
Talking about his UN speech, PM said, "I was fully confident while speaking in the UN." 
PM also stressed that living a hygienic life is very important. "Unhygienic conditions are not good for any society," said PM while praising the Akshay Kumar's film Toilet: Ek Prem Katha.
PM stressed that people's participation is very important for the success of Swachh Bharat mission.
PM Modi also recollected how during his childhood he never celebrated Diwali festival. "I never celebrated Diwali during my childhood. On that day, I used to sit at a secluded place away from the home," said PM Modi.
WATCH VIDEO: