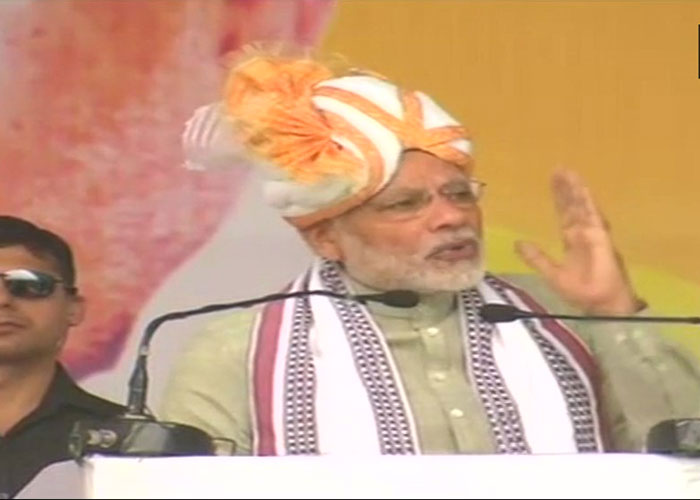 PM Narendra Modi on Friday inaugurated the 105th Indian Science Congress in Manipur's Imphal and addressed a public gathering at Luwangshangbam.
Addressing the inaugural session of the 105th Indian Science Congress, the prime minister exhorted scientists to extend their research from "the labs to the land" for the greater benefit of the people and said time was ripe to redefine R&D as research for development of the nation.
He said India has a rich tradition and a long history of both discovery and use of science and technology. "It is time to reclaim our rightful place among the front-line nations in this field," he said, calling upon the scientific community to extend its research from "the labs to the land".
Modi said the country has to be "future ready" in implementing technologies vital for the growth and prosperity of the nation.
PM MODI ADDRESSED PUBLIC MEETING IN MANIPUR'S IMPHAL: AS IT HAPPENED
#WATCH PM Modi address a public meeting in Manipur's Imphal https://t.co/Hv4HHSMy5p

— ANI (@ANI) March 16, 2018
12:59 pm: The government of India has sanctioned ten India Reserve Battalions for Northeastern states which include two battalions for Manipur. These two battalions will directly provide job opportunities to about 2,000 youth in the state.
12:51 pm: Women power in Manipur has always been a source of inspiration for the country. Today on this occasion, I salute the great revolutionary and daughter of the nation Rani Gaidinliu. I am also privileged to inaugurate today a park dedicated in her name.
I am happy that the State government is working to reduce the problems faced by girls in Hill and Tribal areas for their education. The state government has undertaken construction of a new hostel for girls in the tribal area. I am fortunate to inaugurate 1 such hostel today: PM pic.twitter.com/7mYwSTjNL6

— ANI (@ANI) March 16, 2018
PM MODI ADDRESSES INDIAN SCIENCE CONGRESS
11:02 am: Our government has already given the go-ahead to establish 3rd LIGO detector in the country. It will expand our knowledge in basic sciences in the areas of lasers, light waves and computing. I am told that our scientists are tirelessly working towards making this a reality.
11:00 am: We are committed to increasing the share of non-fossil fuel based capacity in the electricity mix above 40 per cent by 2030. India is a leader in the multi-country Solar Alliance and in Mission Innovation. These groupings are providing a thrust to R&D for clean energy.
#WATCH PM Modi address a public meeting in Manipur's Imphal https://t.co/Hv4HHSMy5p

— ANI (@ANI) March 16, 2018
10:49 am: Our scientific achievements need to be communicated to society. This will help inculcate scientific temper among youth. We have to throw open our institutions and laboratories to our children. I call upon scientists to develop a mechanism for interaction with school-children.
10:45 am: I am told that this is just the second time in over a century, that the Indian Science Congress is being held in the Northeast. This is a testimony to the resurgent spirit of the Northeast. It bodes well for the future: PM Modi in Imphal
10:40 am: Ahead of PM Modi's visit, security in the state particularly in Imphal town has been beefed up. 
10:30 am: PM Modi's recent Manipur visit comes a day after the Bharatiya Janata Party (BJP) led coalition government completed its first year in the state.