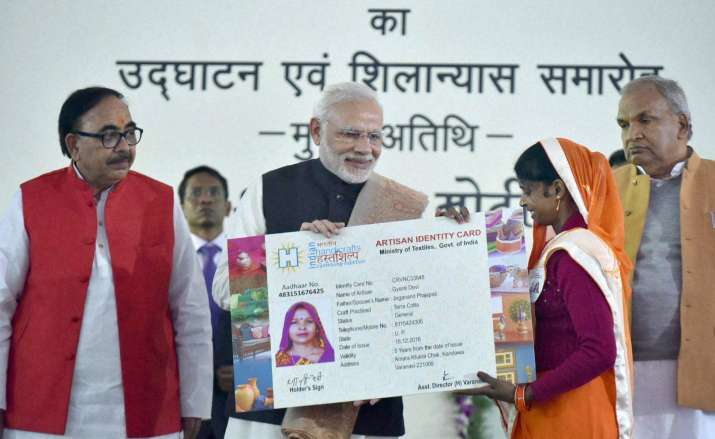 Prime Minister Narendra Modi today visited Varanasi to take part in a cultural festival, flag off a number of projects and also to interact with booth-level BJP workers of his Parliamentary constituency. 
This is the Prime Minister's first visit to his Lok Sabha constituency since demonetisation which is expected to become a major issue in the upcoming assembly polls in view of the inconvenience caused to people from all walks of life due to shortage of currency.
During his day-long stay here, the Prime Minister laid the foundation of different projects worth Rs 1,000 crore and launch some other schemes.
Here are the highlights:
* I would like to congratulate Textile Minister Smriti Irani for making this happen in such a short span of time: PM Modi ​
* Today, Kashi is receiving various projects worth Rs 2100 crore: PM Modi​
* This land of Kashi is of spiritual importance and has tremendous tourism potential. It is also a trade centre: PM Modi in Varanasi​
Varanasi (UP): PM Modi lays foundation stone of ESIC super speciality hospital, inaugurates Trade Facilitation Centre & Crafts Museum pic.twitter.com/rYzjZRBghC

— ANI UP (@ANINewsUP) December 22, 2016
​
* Our army makes us proud but some people have questions even on their bravery. Is it good to view institutions like this: PM Modi
* I urge the youth to move towards online banking. Your mobile phones can be your banks and wallets: PM Modi
Ab mujhe batao ye wo apna report card de rahe hain ya mera de rahe hain. Ye 50% gareebi, viraasat kiski jhel raha hoon main?: PM Modi pic.twitter.com/FcWyFfCn3O

— ANI UP (@ANINewsUP) December 22, 2016
* When they say large parts of India did not get access to education, whose report card are they giving? Congress is responsible for illiteracy: PM
* Now that their young leader has spoken, we have seen what the 'earthquake' is all about: PM Modi
Ek yuva neta hain, abhi bhaashan seekh rahe hain. Jab se unhone bolna seekha hai, meri khushi ka koi paar nahin: PM Modi pic.twitter.com/5iRfbdjC2w

— ANI UP (@ANINewsUP) December 22, 2016
* Have faith in the strength of 125 crore Indians. The people of India are selfless. Blessings of people is like blessings of Almighty: PM Modi
* Never imagined some politicians will stand by corrupt: PM Modi 
Kabhi socha nahi tha ki desh ke kuch raajneta himmat ke sath beimaano ke sath khadey ho jaayenge : PM Modi in Varanasi #DeMonetisation pic.twitter.com/BRPtbYPebc

— ANI UP (@ANINewsUP) December 22, 2016
* Need of the hour is to provide quality and affordable healthcare to the people of India especially the poor: PM Modi
* Indian doctors have distinguished themselves at the world stage: PM Narendra Modi
* The role of technology in medical science is increasing and we are moving towards providing best medical facilities in India: PM Modi
* We thought, why not have a cancer research institute here itself. Why should patients from here have to travel far for cancer treatment: PM Modi
* PM Modi lays foundation stone of Mahamana Pt. Madan Mohan Malaviya Cancer Centre in Varanasi. The dedicated centre will be built at a cost of about Rs 500 crore.
* PM arrives at the Swatantrata Bhavan of Banaras Hindu University (BHU)
* PM Modi arrives Lal Bahadur Shastri International AirportShastri International Airport
The Prime Minister arrived in Varanasi, where he will attend several programmes. pic.twitter.com/FQSqZn6cyR

— PMO India (@PMOIndia) December 22, 2016
Varanasi (UP): PM Narendra Modi to address booth level BJP workers working in the Varanasi Lok Sabha seat today. Preparation underway. pic.twitter.com/aM4YNy6a6d

— ANI UP (@ANINewsUP) December 22, 2016
The PM's visit to Varanasi could be the last to his parliamentary constituency before the Assembly poll schedule is announced and the Model Code of Conduct comes into force.
This is also Modi's first tour of his parliamentary constituency since demonetisation of Rs 500 and Rs 1,000 notes, that has drawn much flak from the opposition as the shortage of currency caused inconvenience to traders, salaried groups, artisans and unskilled daily wage earners alike.