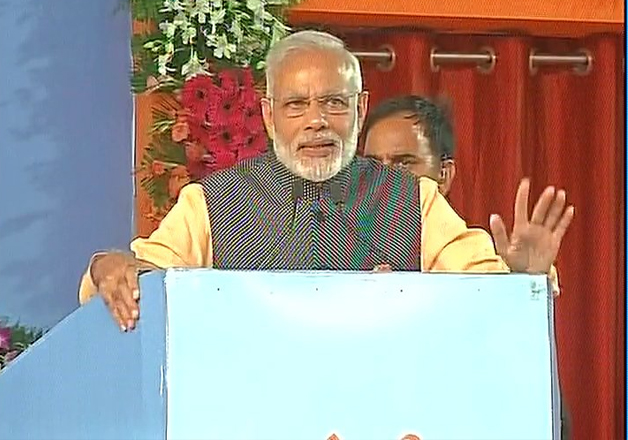 Prime Minister Narendra Modi today made a veiled reference to the surgical strikes carried out by the Indian Army and congratulated the forces for their valour and courage.  
The Prime Minister was dedicating the newly built war memorial - Shaurya Smark to public in Bhopal. The memorial has been built by the Madhya Pradesh government on an about 13 acres campus. 
Addressing a gathering, largely of ex-servicemen, Modi lauded the forces saying, "They don't speak, but act". Modi also made a veiled reference to the fallout of the Uri attacks that saw the Army launch a successful operation targeting terror camps across the Line of Control.
 
"When I said our Army does not believe in speaking, critics would say Modi is sleeping, is doing nothing," he said targeting critics who believed India's response was soft against terror. 
Modi also took a dig at the political detractors who have been targeting the government and the Defence minister following the surgical strikes. "Like our Army doesn't say but displays its valour, similarly our Defence Minister also doesn't speak," he said.
The Prime Minister further said that "Indian security agencies are archetypal of humanity".
He specifically pointed out that Army extended help to same people of Kashmir who pelted stones at them during protests. 
"While extending help, my soldiers did not for once think that these are the same people who pelt stones at them. The Army did not turn away during Srinagar floods and conducted rescue and relief operation, and helped people in distress," he said.
"It is the call of humanity that inspires our armed forces when they are helping people during natural disasters. Nothing else matters," he added.
"Army, BSF, CRPF, Coast Guard jawans sacrifice their lives so that we can sleep peacefully," he further said.
Highlighting India's contributors to the UN peacekeeping forces, he said, "While rescuing Indians in Yemen, Indian army also rescued a few Pakistanis, this is the example of humanity of our Indian Army."
"India had nothing to do with the first and second world war. Still 1.5 lakh soldiers sacrificed their lives in these wars," Modi added.
He also called on people to respect and applaud the security forces whenever they see them. 
"I salute the martyrs, their parents, the sisters who have lost their husbands or brothers. And I salute those families. There is a custom in many countries in the world, we don't have it yet, but we can do it. When soldiers pass through airports or train stations, people get up and applaud them with claps. Can we not do that too? Not just remember forces during times of war? It's a small thing, but it can make a great impact on a soldier's life," he said.
He also took the opportunity to hit out at the erstwhile UPA government with regard to One Rank One Pension (OROP).
"Our soldiers have been asking for something from past governments for decades – OROP. And all governments kept making promises in beautiful words and some put a few hundred crores in the budget. And today I stand with the satisfaction that we have kept this promise," Modi said.