PM Modi first interview (2019)
In his first interview of 2019,  Prime Minister Narendra Modi on Tuesday made it clear that ordinance on Ram Temple can be considered only after legal process gets over.  "Let the judicial process be over.  After the judicial process is over, whatever will be our responsibility as the government, we are ready to make all efforts. We have said in our BJP manifesto that a solution would be found to this issue under the ambit of Constitution," PM Modi said.
In an interview with  Smita Prakash, chief editor, ANI, PM Modi, who has come under intense direct attack from Congress president Rahul Gandhi over various issues, responded to various issues including Rafale jet deal, Triple Talaq, Ram Mandir etc.
Responding to a question over 2019 Lok Sabha elections and the Congress' attempts to stitch a Grand Alliance or Mahagathbandhan, PM Modi said, "It is going to be 'Janta' versus 'Gathbandhan' in 2019. Modi is just a manifestation of public love and blessings."
Narendra Modi first interview of 2019 Highlights:
Watch PM Modi's interview full on India TV:
# Parliament is a place for debate and discussion. We have to respect the sanctity of Parliament: PM Modi
# Villages on the banks of the Ganga are ODF. This is a major accomplishment: PM Modi
# I have worked with full sincerity towards cleaning the Ganga: PM Modi
# Pakistan will never improve on the basis of one war. That nation will still take some time to improve.  All PMs of India, across all parties never opposed dialogue with Pakistan. But, can we hear anything in the midst of bombs. Today, terror supporting Pakistan is isolated: PM Modi.
# On the surgical strikes, there are some political parties who began to speak the same language as Pakistan. These parties were demeaning our armed forces. They politicised such an issue. As the PM, I will always appreciate the armed forces, says PM Modi
#On Rafale I have spoken in Parliament and in various public meetings. The Indian Supreme Court has given its views and the French President has also spoken. For them, my crime is I am working on Make In India for being self sufficient in defence. My crime is that I am focussing on whatever defence forces need. I do not care about their abuses, I will do my work and strengthen the armed forces. I am working with honesty: PM Modi says on Rahul Gandhi's accusations on Rafale deal 
# One of our former Prime Ministers called the Planning Commission members a 'bunch of jokers.' Do you know who was the Deputy Chairman of the Planning Commission then, says PM Modi while referring to what  Rajiv Gandhi had said when Dr. Manmohan Singh was the Deputy Chairman of Planning Commission.
# Even a single incident of mob lynching in condemnable. Incidents like mob lynching are a blot on our society, says PM Modi
# Agree that a few small businessmen were troubled by the GST, but we are working constantly to improve the frame work. We are committed to look after the concerns of the middle class. For middle class, we'll have to change our thinking. Middle class never lives on someone's mercy. They live with dignity and make immense contribution towards running the country. Have GST processes not been done taking a consensus with all political parties in the country? The GST process had been going on since Pranab Mukherjee was Finance Minister, says PM Modi. |  READ: PM Modi's interview on GST: 'Is Rahul Gandhi 'abusing' Congress leaders by slamming GST?'
# Those who fled during this government, they will be brought back, today or tomorrow. Diplomatic channels, legal courses and seizure of properties being done. Those who have stolen India's money, they will have to compensate for each and every penny, says PM Modi. | READ: PM Modi's interview on Gandhi family: 'Those who ran country for four generations are today facing charges of financial irregularities'
# Even the Congress needs to get rid itself of the Congress culture of nepotism. The BJP is not run by Modi or Amit Shah only.
The BJP believes in democracy at booth level. BJP's growth is unbeatable. There is no question of party's moral going down, says PM Modi. | READ: PM Modi's interview on loan waiver: 'Congress governments' announcements are mere political stunts'
# Loan waivers announced by the Congress governments are just 'political stunts'. A majority of farmers do not benefit from these 'misleading' announcements as only a few of them take loans from banks, says PM Modi in his first interview of 2019
# Yes, we lost in Chhattisgarh and we are discussing the reasons behind the loss. As far as Madhya Pradesh and Rajasthan are considered none of the parties got clear majority. I personally don't believe there's anything such as Modi wave, says PM Modi
# 2018 was a hugely successful year for all of us. We were able to provide electricity to lakhs of people, schemes like Ayushman Bharat provided help to huge number of people, says PM Modi
# Ek ladai se Pakistan sudhar jayega, yeh sochna bohot badi ghalti hogi. Pakistan ko sudharne mein abhi aur samay lagega: PM Modi on cross border attacks from Pakistan even after surgical strike. |  READ: PM Modi on Surgical Strike in PoK: It was a 'big risk', but was more concerned about safety of soldiers
# It is a fact that those considered first family, who ran the country for four generations, are out on bail, that too for financial irregularities. It is a big thing. A set of people, who are at their service, are trying to suppress such information and push other narratives: PM Modi on Gandhis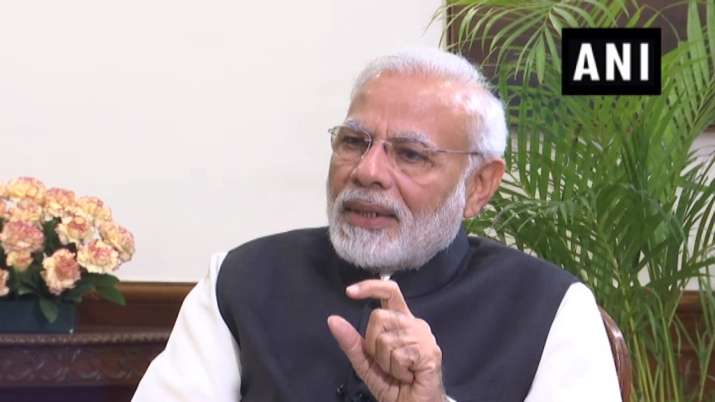 # This wasn't a jhatka. We had warned people a year before, that if you have such wealth (black money),you can deposit it,pay penalties and you will be helped out. However, they thought Modi too would behave like others so very few came forward voluntarily: PM Modi on Demonetisation 
# He himself requested (to resign) on personal reasons. I am revealing for the first time, he was telling me about it for past 6-7 months before his resignation. He gave it even in writing. No question of political pressure. He did a good job as RBI Governor: PM Modi on Urjit Patel's resignation as RBI Governor
# It is going to be 'Janta' versus 'Gathbandhan' in 2019. Modi is just a manifestation of public love and blessings, says PM Modi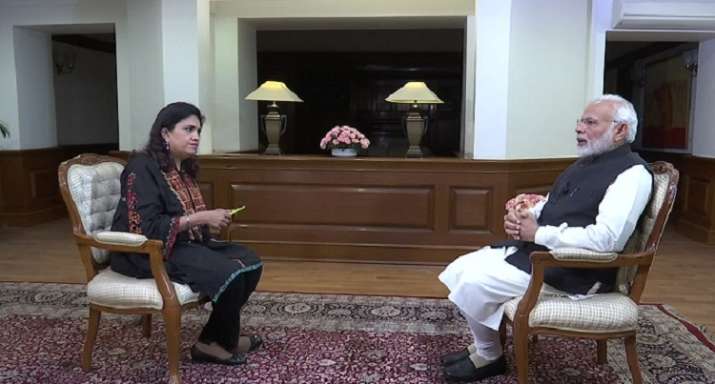 # Triple talaq issue is a matter of gender equality, says PM Modi
# I was angered by what happened in Uri. I was disturbed by the terror attack on our Army jawans in Uri, says PM Modi
# Ram Mandir will be built under the Constitutional framework of the country. Ordinance on Ram Temple can be considered only after legal process gets over, says PM Narendra Modi |  READ: PM Modi's interview on Ram Mandir: Decision on bringing in ordinance only under 'Constitutional ambit'