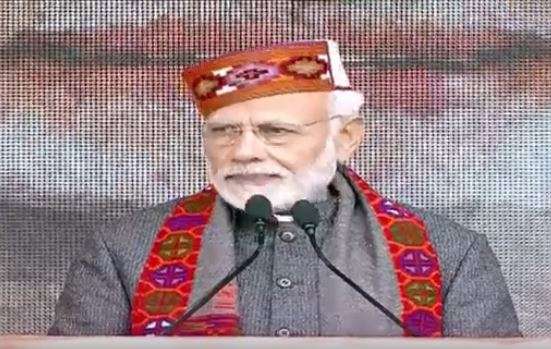 Prime Minister Narendra Modi on Thursday said Himachal Pradesh was like his home and he had learnt a lot while travelling through the state. Addressing a 'jan abhaar' rally in Dharamshala to celebrate one year of the Jai Ram Thakur-led BJP government in Himachal Pradesh, Modi said he felt great happiness seeing those he worked with become front line leaders.
He described Himachal Pradesh as the land of brave soldiers who were ever ready to make supreme sacrifices at the border. Congratulating Thakur on completing one year as chief minister, Modi said, "Himachal Pradesh is like my home. I worked here for several years for the party's organisational work." 
PM Modi in Dharamshala (HIGHLIGHTS):
I'm saddened to hear that some people coming for my rally met with an accident. We will provide all help possible: PM Modi  
Corrupt are now afraid of "chowkidar": PM Modi 
We have started direct money transfer for the beneficiaries. This put a check on corruption: PM Modi 
Shimla: Congress submitted 'charge sheet' against one year of BJP Government in Himachal Pradesh, to the office of Governor pic.twitter.com/nklIP73YbL

— ANI (@ANI) December 27, 2018
It is time to go for organic farming: PM Modi
For forty years, our ex-servicemen asked for 'One Rank, One Pension'. The previous government allocated just Rs. 500 crore for it. But when we came to power, we implemented OROP and ensured welfare of our ex-servicemen: PM Modi
Congress party backstabbed jawans of Indian Army: PM Modi 
Congress party has done nothing in the name of One Rank One Pension when it was in power: PM Modi 
Within four years, tourism industry has grown many folds in India: PM Modi
Himachal is land of brave soldiers, ever ready for supreme sacrifice: PM Modi
We are giving stress on next generation infrastructure: PM Modi 
Now HP gets Rs 72,000 crore as a grant compared to Rs 21,000 thousand crore which earlier government at the Centre used to give: PM Modi
In just one year, the state government has done splendid work. I thank CM Jai Ram Thakur for it: PM Modi
Dharamshala has created name for itself in the sports industry: PM Modi
Himachal is a land of Gods: PM Modi
Worked here, learnt a lot travelling through state; feel happiness seeing those I worked with become front line leaders: PM Modi
Himachal is like home to me: PM Modi
PM Modi was welcomed by the chief minister, former chief minister Prem Kumar Dhumal, Kangra BJP MP Shanta Kumar and Union Health minister Jagat Prakash Nadda when he reached the helipad in Dharamshala. Himachal Pradesh Governor Jagat Prakash Nadda was also present on the occasion.  
Earlier, CM Thakur expressed his gratitude towards the people of the state for their cooperation in an "all-round and equitable development" of the state. He also thanked Modi for providing financial assistance of crores of rupees to the state for various development works.
Catch all the latest news about Lok Sabha elections 2019 HERE
He said one year's tenure of his government has been "very successful and full of achievements".
In an official statement, the chief minister said that his government has made best efforts to benefit every section of the society by launching various new welfare schemes like Himachal Grihini Suvidha Yojana, Mukhya Mantri Savavlamban Yojana and Mukhya Mantri Chikitsa Kosh.
"The Jan Manch programme initiated by the government has proved a boon for the common man in redressing their complaints and demands immediately at their door-steps. Similarly, the decision of the state government to reduce age limit for getting old-age pension beyond any income limit from 80 to 70 years has benefitted more than one lakh people in the state," Thakur said.
He said he has covered 63 assembly constituencies of the state in this period, which has helped him to interact directly with the masses.
"It is with the active cooperation and support of the people of the state that Himachal Pradesh has scaled the new heights of development in most of the sectors for which it has been recognised at the national level," he said, while expressing hope that the state would emerge as a model state for rest of the country in the coming years.
WATCH VIDEO: PM Modi addresses Jan Abhar Rally at Dharamshala, Himachal Pradesh
(With inputs from PTI)