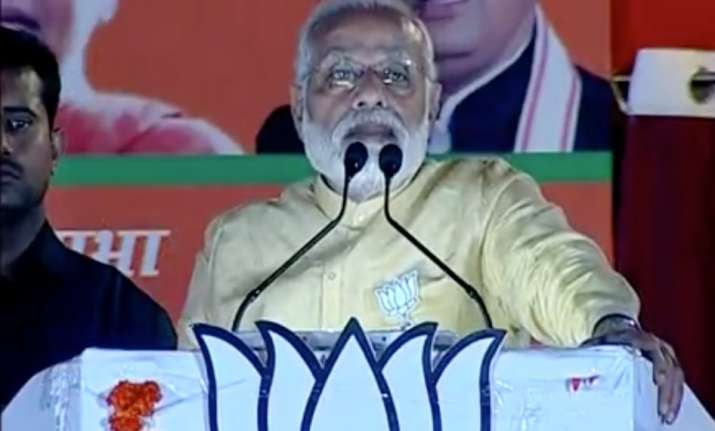 Prime Minister Narendra Modi was campaigning for the final phase of polling in Uttar Pradesh in full swing and has addressed a public rally at Mahatma Gandhi Kashi Vidyapith here.
PM Modi today attacked the ruling Samajwadi Party and its ally Congress, saying they believed in the development of "a few" and saw everything from the prism of votes. 
Targetting his rivals, specifically Chief Minister Akhilesh Yadav and Congress Vice President Rahul Gandhi, he 
said like people suffered from 'motiabind' (cataract), the SP and Congress suffered from 'votebind' as "they can't see anything unless they see them in the context of votes."
"As people suffering from cataract can see only after undergoing a surgery, these leaders can see things only when they see votes," Modi said at a public meeting in his parliamentary constituency of Varanasi after a roadshow here. 
Accusing the SP government of "bias" in its welfare programmes, he said it believed in 'kuchh ka saath, kuchh ka vikas' (support of a few, development of a few) while he believed in everybody's development as in 'sabka saath, sabka vikas'. 
"The SP and the BSP are two sides of the same coin, the former being A (Akhilesh) SP and B (Bahujan) SP," Modi said. 
He also said that Akhilesh and Rahul were "delicate" people incapable of taking hard decisions, while pitching 
himself as a grassroots leader who can develop the state. 
Taking potshots at the Congress over its run of losses in the recent polls, he said one day, research would be done to find out if it once existed, as it is "disappearing from everywhere." 
While Akhilesh has inherited his political powers from his father Mulayam Singh Yadav, Rahul has got it from "so many of his forefathers", Modi said while using a local term, 'ghelua' (what comes free of cost) for the two leaders. 
"They are such delicate people who cannot take hard decisions. They think what if they lose what they got. I have not got anything in inheritance. 
"Whatever I have got is due to the blessings of the people of Kashi. I can take hard decisions to rid the country of its problems. I have the courage to do so," the Prime Minister said. 
Demonetisation, he said, has brought the SP, BSP and the Congress on the same side in its opposition while the entire country had supported it. 
Reaching out to small traders who are in significant numbers here, he said they would not be touched by his 
government's drive against corruption as the politicians and 'babus' have looted the country all these years. 
Forty seats will go to the polls on March 8, bringing an end to an almost a month long seven-phase elections. Counting of votes is scheduled on March 11. 
Projecting himself as a "son of the soil" who has seen difficult days, Modi said he has the capability to take hard decisions. He spoke at length about demonetisation and surgical strikes as he hit out at opposition parties for seeking proof of the army's action. 
His rivals, he said, take decisions in power keeping the interests of some sections of society in mind to win elections while he was working for everybody's development. 
He also referred to his road show earlier in the day which he said broke yesterday's record and the support he received was something he had never seen in his life. 
Attacking the Congress, he said during the UPA government media reports were full of scams and how much of money was lost, while now his rivals were asking how much of money he has brought back. 
"Those who have looted the country for the last 70 years will have to return the poor's money. I will do that," Modi said. 
Modi as well Yadav and Gandhi had led road shows yesterday, both of which had drawn massive response. 
The Prime Minister also cited a number of developmental works he had undertaken to develop the holy city, where the BJP is locked in a keen fight the SP-Congress and the BSP candidates. 
If the eastern UP is developed properly, the state can lead India's development, which is not possible without its progress, he said in his hour-long speech.
(With inputs form PTI)
Highlights: 
Netao, Babuo ne loota hai desh ko. Chotey logon ko pareshani nahi hone dunga lekin looteron ko nahi chhodunga ye pakka hai: PM Modi pic.twitter.com/o2cGAJ5voB

— ANI UP (@ANINewsUP) March 5, 2017
* We are creating infrastructure in such a way that people need not to travel to Lucknow or Delhi for treatment, tells PM Modi to gathering.
30 lakh families in UP need houses,centre asked state for their list but they're sleeping;they couldn't make a list how'll they mk houses-PM pic.twitter.com/SyFrZVGdPj

— ANI UP (@ANINewsUP) March 5, 2017
* Every Indian should have his or her own home by 2022 and it is very disappointing that after independence people do not have their own house to live in, said PM in Varanasi.
* We wanted to build a ring road but the state government did not cooperate and kept obstructing that, says PM
* I have inherited nothing. Whatever I have got is from the people of Kashi, says PM 
* It is sad that driven by politics, some people wanted proof of surgical strikes & were asking- did any Indian soldier die, PM slams opposition
* I want to tell all honest citizens- no one will ever trouble you. Immandar Ka Samman Hoga, says PM in Varanasi
* 
Bimaaron ki seva ke liye sarkar inko(state govt) paise deti hai lekin dukh ke sath kehta hu uska upyog karne ki bhi inme haisiyat nhi hai-PM pic.twitter.com/MLFQwIshgO

— ANI UP (@ANINewsUP) March 5, 2017
* Shouldn't corruption come to an end? Its been so many years since we attained freedom but a small section misused their power & position: PM
* This land of Uttar Pradesh, this part of the state is blessed with very talented people. The potential for development is immense, tells PM to gathering in Varanasi.
* The eastern part of India has to scale new heights of development, says PM
* Our mantra is 'Sabka Sath, Sabka Vikas' but SP, BSP & Congress believe in 'Kuch Ka Sath, Kuch Ka Hi Vikas', says PM
* Our aim is of a Banaras that is modern yet retains its heritage: PM says in Varanasi
* Our Benaras is older than history, older than tradition, says PM quoting Mark Twain.
* The blessings from the people of Kashi gives me energy to serve you, says PM Modi
* 
Mark Twain ne kaha tha hamara Banaras itihas se bhi purana hai; ye ek bejod sheher hai: PM Modi at Kashi Vidyapith in Varanasi #uppolls pic.twitter.com/njyq6Nt6u0

— ANI UP (@ANINewsUP) March 5, 2017
* 'I can't thank the people of Varanasi enough, you have broke yesterday's record,' Modi tells the gathering.
* PM Modi begins rally by addressing the name of local BJP leaders from Varanasi
* PM addresses rally at Kashi Vidyapith in Varanasi 
#WATCH Live via ANI FB: After roadshow PM Modi addresses rally at Mahatma Gandhi Kashi Vidyapith in Varanasi https://t.co/emc0ghJ56a pic.twitter.com/c5XC1fC70I

— ANI UP (@ANINewsUP) March 5, 2017
* PM reaches Kashi Vidyapith and is expected to begin his speech.
* PM Modi's roadshow reaches conclusion point of Mahatma Gandhi Kashi Vidyapith, where he will address rally shortly 
* PM Narendra Modi's road show reaches Teliyabag, amid chants of "Modi-Modi"