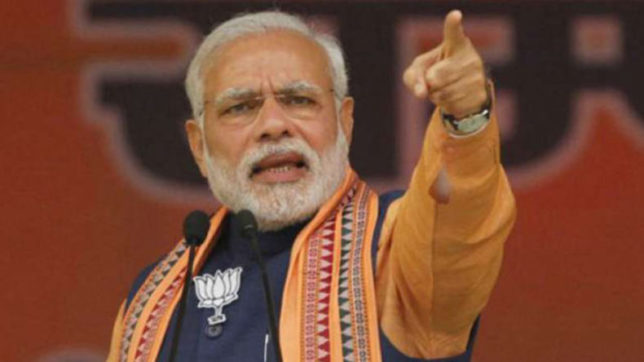 Prime Minister Narendra Modi today turned on its head Congress leader Mani Shankar Aiyar's remark against him and said that he hails from the poor section of society and will continue to work towards the upliftment of the poor and downtrodden.
"They can call me 'Neech'- Yes, I am from the poor section of society and will spend every moment of my life to work for the poor, Dalits, Tribals and OBC communities. They can keep their language, we will do our work," PM Modi thundered addressing a rally in Surat in poll-bound Gujarat.
The Prime Minister also said that people should not react to such statements by Congress leaders and 'congratulated' the Congress for its mindset.
"I beg to the people of India- please let them be. Let them keep calling me 'Neech' we will not respond. We do not have this mindset and want to congratulate them for theirs. If anything- we will answer them for their mindset with our votes on 9th and 14th," he said.
"Yes, they called me 'Neech' but our value systems are strong. We have nothing to say to such elements. Our answer will come through ballot box. We have seen enough insults from them. They insulted me when I was CM. They called me 'Maut Ka Saudagar' and wanted to jail me," he said.
Meanwhile, Mani Shankar Aiyar has apologised for his remarks although he insisted that he did not called Narendra Modi "low born".
"I used 'neech' as the literal translation for the word 'low'. If 'neech' means 'low born' then I apologise for my statement," he added. 
Aiyar's clarification came after a public rebuke from Congress Vice President Rahul Gandhi, "BJP and PM routinely use filthy language to attack the Congress party. The Congress has a different culture and heritage. I do not appreciate the tone and language used by Mr Mani Shankar Aiyer to address the PM. Both the Congress and I expect him to apologise for what he said," he tweeted. 
Later in the day, Finance Minister Arun Jaitley called Aiyar a 'serial offender' and alleged that it was a well thought strategy by the Congress to first use filthy language about PM and apologise later on when there is public outrage.
"I think it is a well thought strategy by the Congress, to use filthy language about PM and spread misinformation but when there is public outrage they apologize," he said.
BJP President Amit Shah also slammed the 'feudal ideology' of Congress party, "Neither shocked nor surprised by Mani Shankar Aiyar's referring to PM as 'Neech.' This is the culture of the Congress party. People of Gujarat will punish anti-poor, anti-Dalit, anti-Tribal and anti-OBC Congress."
Earlier in the day, Congress leader Mani Shankar Aiyar had targeted PM Modi and used derogatory remarks against the PM. Responding to Aiyar's remarks, Union minister Ravi Shankar Prasad said that the country was proud of its Prime Minister. "Mani Shankar Aiyar has called our PM 'neech' but we are proud of our Prime Minister, he has answered very politely & sensibly. Aiyar's mindset is a 'darbaari' one," Ravi Shankar Prasad said.
#WATCH: "Ye aadmi bahut neech kisam ka aadmi hai, is mein koi sabhyata nahi hai, aur aise mauke par is kisam ki gandi rajniti karne ki kya avashyakta hai?: Congress' Mani Shankar Aiyar on PM Modi pic.twitter.com/sNXeo6a1Gi

— ANI (@ANI) December 7, 2017
Sheila Dikshit, senior Congress leader, also slammed Aiyar, without naming him, for the controversy. "I strongly condemn attempts made by some Congress leaders to weaken @OfficeOfRG & @INCIndia. If these leaders truly believe in the Congress ideology, they should be more circumspect in their choice of words. We need to all strengthen the hands of our President to be," Dikshit tweeted, referring to Gandhi's pending promotion. 
Inaugurating the BR Ambedkar International Centre in New Delhi, PM Modi blamed the Congress government for delay in the project. In a scathing attack on Rahul Gandhi, the prime minister even said that the party that banked on Ambedkar's name for votes has conveniently forgotten the Dalit icon and is now invoking Baba (Lord Shiva) for political mileage.
"Attempts to erase Baba Saheb Ambedkar's contribution have failed because he been more influential in the minds of people, much more than the family (Gandhis) for which all this was done," the prime minister said.
PM Modi said that BR Ambedkar International Centre would be an important place for research on social and economic issues."The centre will prove to be an inspiration for the promotion of the thoughts and teachings of Dr Ambedkar. The centre will be an important place for research on social and economic issues," the prime minister said.  He also unveiled two statues of the Dalit icon at the centre in Janpath.
Union Minister of Social Justice and Empowerment Thawar Chand Gehlot, Minister of State Ramdas Athawale and Union Sports and Youth Affairs Minister Vijay Goel were also present at the event.
Modi added that the government had developed five places related to Babasaheb Ambedkar into pligrimage spots. He added that the five pilgrimage spots -- in Delhi, Mumbai, Nagpur, Mhow and London -- were like a homage from the present generation. "I think that this centre is for the youth... where they can see and understand the vision of Babasaheb Ambedkar," the prime minister said.
The centre, he said, was a fusion of Buddhist and modern architecture.
He had laid the foundation stone of the centre in 2015.
WATCH | PM Narendra Modi inaugurates Ambedkar International Centre in Delhi