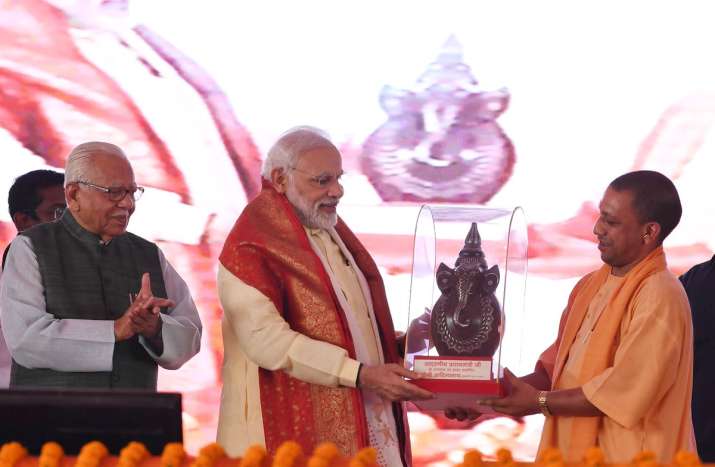 Prime Minister Narendra Modi on Saturday blamed the previous governments for under development of the pilgrim city and said he wanted to see Varanasi developed as a place with an ancient soul but in a modern shell. 
Addressing a public rally here in his Lok Sabha constituency, he said change was visible in Varanasi over the last four years of his government. 
Catch all the latest news about Indian politics HERE
"During previous govts there was no development in Varanasi, development projects were stalled. But when the people voted for us & chose BJP govt for Lucknow, the region started moving forward on the path to development," PM said.
"A new Varanasi is being built for New India, its soul will be ancient but its body will be modern. There will be culture & traditions in every corner of it but the facilities provided to it will be 'smart'," PM Narendra Modi said.
Holy river Ganga also found mention in Modi's speech when he said, "So far more than 200 projects of Rs 21,000 crore have been approved to keep river Ganga clean and to see that the waste of the cities are not dumped in the river." 
Modi urged the people of Varanasi to start preparing to welcome delegates from all over the world for the Pravasi Bharatiya Diwas (NRI Day), which will be held here from January 21 to 23 next year. 
The guests will also visit Allahabad for a 'Kumbh darshan'. 
Earlier in the day, the prime minister had addressed another rally in Azamgarh and laid the foundation stone there for the 340-km Purvanchal Expressway. 
Catch all the latest news about Lok Sabha elections 2019 HERE
In a symbolic inauguration in Varanasi, Modi launched development projects worth nearly Rs 1,000 crore for the city and the region around it.
He will visit Mirzapur on Sunday, wrapping up his two-day visit to eastern Uttar Pradesh. In Mirzapur, he will dedicate the Bansagar Canal Project to the nation. 
At the same event, PM Modi will lay the foundation stone of the Mirzapur Medical College. He will inaugurate 108 Jan Aushadhi Kendras in the state. He will also dedicate a bridge over the River Ganga at Balughat, Chunar, which will facilitate connectivity between Mirzapur and Varanasi.
(With inputs from agencies)