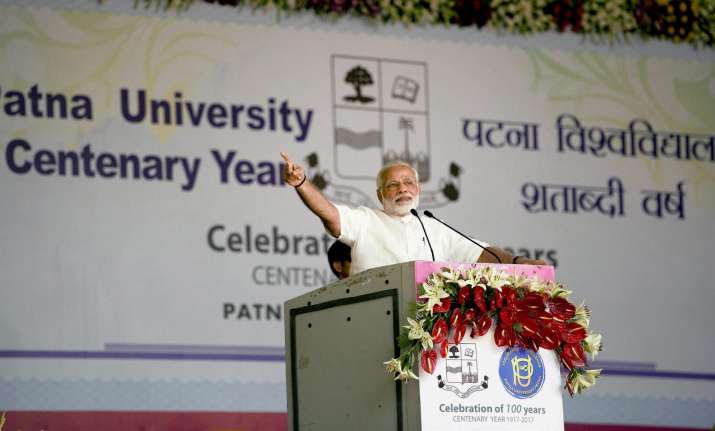 Praising Bihar Chief Minister Nitish Kumar, PM Narendra Modi, who was attending Patna University centenary celebrations in Bihar, today said the chief minister's commitment towards the progress of Bihar is commendable and the progress of the state is the Centre's topmost priority.
"The commitment of Nitish Kumar towards the progress of Bihar is commendable. The Centre attaches topmost importance to the development of eastern India," Modi said.
The prime minister said when the country celebrates the 75th anniversary of Independence day in 2022, he wants to see Bihar standing among the list of prosperous states.
PM Modi also said it was a "blot" that Indian universities do not figure among the top 500 of the world and noted that the government has decided to give autonomy and Rs 10,000 crore to top 10 public and private universities over the next five years to make them world-class.
"We are not among the top 500. We should remove this blot or not. The situation should change through our determination and hard work," Modi said.
He said the government has come with scheme to make 10 private and 10 public universities world-class by providing them autonomy from the constraints of government rules and freedom to grow. "They will be given Rs 10,000 crore in the next five years," Modi said.
Modi also said that many top level officials of civil services are students of Patna University. "In Delhi, I interact with so many officials, many of whom belong to Bihar," he said.
"I consider it my honour to visit Patna University and be among the students. I bow to this land of Bihar. This university has nurtured students who have contributed greatly to the nation," he said. He also urged universities to move from conventional teaching to innovative learning.
He said that Bihar is blessed with both 'Gyaan' and 'Ganga.' "This land has a legacy that is unique," he said.
Later in the day, the prime minister is also expected to lay the foundation stones for several projects, including four sewerage projects under the Namami Gange Programme and four national highway projects in Mokama area of Patna district.
After attending the Patna University function, the prime minister will fly to Mokama, which is in Patna district about 100 km from the capital city, where he will lay the foundation stones for four sewerage projects under the Namami Gange Programme and four national highway projects.
At Mokama, Modi will lay the foundation stone for four Rs 3031 crore national highways projects and as many sewage treatment plants (STPs) and related works worth Rs 738.04 crore, an official statement said.
The four sewerage projects for which the foundation stone will be laid are Sewage Treatment Plant at Beur, Sewerage System with Sewer Network at Beur, Sewage Treatment Plant at Karmalichak, and Sewage Treatment Plant and Sewer Network at Saidpur -- all in state capital Patna.
"These projects together will create new STP capacity of 120 MLD and upgrade the existing 20 MLD for Beur," said an official statement.
The other three projects are four-laning of Bakhtiyarpur-Mokama section of NH-31, two-lane construction of Maheshkhunt-Saharsa-Purnea section of NH-107 and two-lane construction of Biharsharif-Barbigha-Mokama section of NH-82.