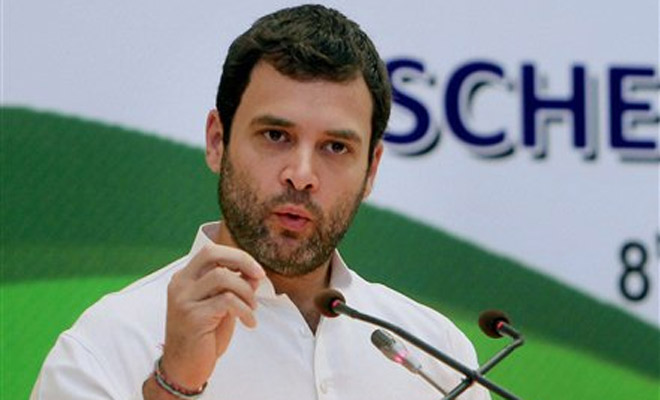 Continuing his tirade against Prime Minister Narendra Modi and his demonetisation move, Congress vice-president Rahul Gandhi today covered all possible facets to disapprove of the PM, from the planning of note ban to the corruption allegations against him.
Like his all recent speeches, Gandhi started off by pointing to loopholes in PM's demonetisation move. He claimed that the dishonest in India either invest their black money in real estates or knock the doors of Swiss bank. Hence, to put a ban on Rs 500 and Rs 1000 notes wouldn't help.
"The corrupt in India are both smart and miserly. They invest all their unaccounted cash in properties or deposit it in their Swiss bank accounts," Rahul Gandhi said in his address to a rally in Baran, Rajasthan.
He then shifted the focus towards farmers and stressed on their sufferings because of the note ban.
"PM Modi's decision was against the interests of poor, farmers and our sisters. He has burnt all their cash in name of fight against black money."
"Farmers commit suicide everyday in the country but still govt did not pay heed to their demands put forward by us. We introduced Land Acquisition Bill for them to get right price of their land, but he tried to stop it thrice by ordinance," he said.
"In states like Madhya Pradesh, Jharkhand and Chhattisgarh, BJP snatches land from the residents."
He also seemed critical of PM Modi's 'cashless economy' drive, dubbing it as a change of narrative by the Prime Minister.
"Paytm means Pay to Modi. He said we will bring back black money and distribute that money among poor. But later, he changed his narrative."
Taking a jibe at Modi, the Congress leader said: "You (Modi) have divided India into two parts -- on one side is one per cent rich and, on the other, there are middle-class, poor people."
The Congress leader also took on the Bharatiya Janata Party-run state government led by Vasundhara Raje.
"What Modi ji is doing in the country, Vasundhara ji is doing in Rajasthan. The state government is against the tribals, Dalits and women. The state government is for the rich," he said.
"Suit-Boot ki sarkar Delhi aur Rajasthan mein baithi hai (there is a suit-boot government in Delhi and Rajasthan)," Rahul Gandhi added.