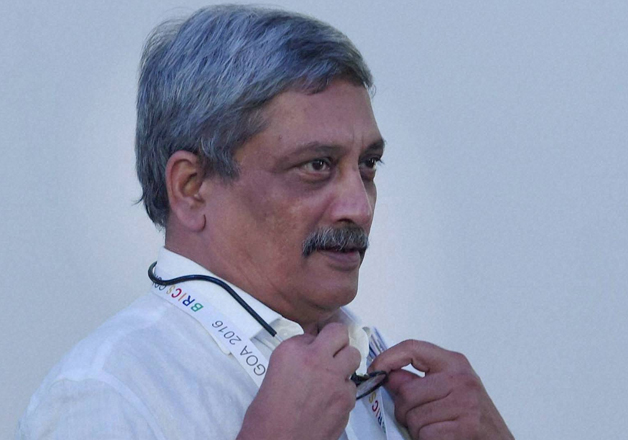 Defence Minister Manohar Parrikar on Monday claimed that terror funding has come down to zero since the demonetisation of high currency notes and there hasn't been stone-pelting on security forces.
Thanking the Prime Minister Narendra Modi for the "daring" move, he said the move will also help clamp down on the narcotic drugs. 
"Earlier, there were rates: Rs 500 for stone pelting (on security forces in Kashmir) and Rs 1,000 for doing something else. PM has brought terror funding to zero," Parrikar said. 
"In the last few days after PM's daring move there hasn't been stone pelting on security forces. I congratulate PM for it," he said, speaking at an event here organised by the BJP MLA Atul Bhatkhalkar. 
Talking to reporters later, Parrikar said those who sponsor terror will be affected by the demonetisation. 
Taking the nation by surprise, the Prime Minister on Tuesday announced demonetisation of Rs 1,000 and Rs 500 banknotes with effect from midnight of November 8 in a major assault on black money, fake currency and corruption.
Earlier, at the event, Parrikar said, "Bhatkhalkar did not tell me beforehand that he will felicitate me." 
A citation was presented to Parrikar, which lauded his role in surgical strikes in Pakistan-occupied-Kashmir. It also thanked him for providing relief to people affected by land development rules in the vicinity of Central Ordnance Depots. 
"When I became Defence Minister, I did not think there will be things like this (dealing with COD-land issue). I thought Defence meant bang-bang on the border," he said. 
"Altogether, 17.38 lakh acres of land in the country is under Defence possession. Defence is the largest land owner in India," Parrikar said. 
"There was delay in resolving COD issue as there were concerns over security on one hand and people's concerns on the other," he said. 
"Whether it's border security or economic security, PM Modi has taken daring decisions," he said, adding "whatever is being done, our jawans on border are doing it, I and PM are just supporting it." 
"Problem of new notes circulation will be resolved to a large extent in the next four-five days," Parrikar said. 
In the next Brihanmumbai Municipal Corporation elections, nobody will be left with power to bribe voters, Parrikar said, without naming the ally Shiv Sena which has been critical of demonetisation. 
The Defence Minister said an issue should not be made out of his simplicity and his shunning various official perks.
"I came to Mumbai thrice (on personal visits) and police didn't know," Parrikar said. 
BJP MP Gopal Shetty said he will expose Defence officers who indulged in irregularities while dealing with the COD issue. 
Providing relief to people in suburban Kandivli and Malad here, Parrikar had earlier this year said the local military authority (LMA) will have to respond within 30 days to applications for no-objection certificate for redevelopment and construction near the defence establishment, failing which the state government and the municipal corporation can take a call.
(With PTI inputs)