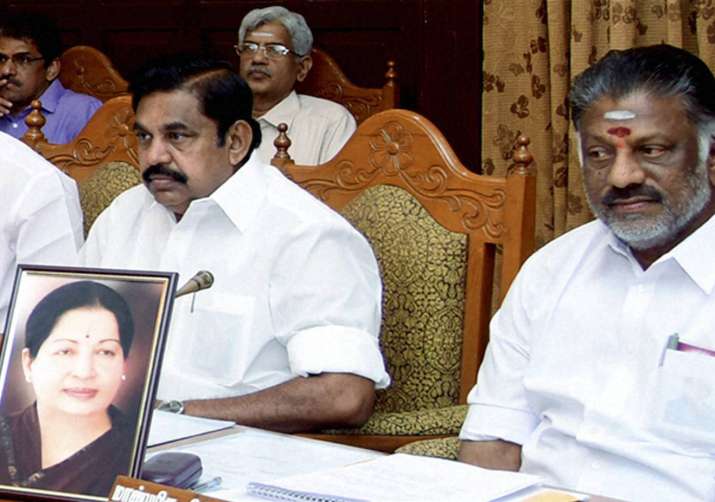 Tamil Nadu Finance Minister O Panneerselvam today presided over a meeting of the state cabinet, first since Chief Minister Jayalalithaa was hospitalised three weeks ago.
Tamil Nadu Governor had last week re-allocated the portfolios of ailing Chief Minister to Panneerselvam and also authorised him to preside over the meetings of sate Cabinet.  
In its first meeting since re-allocation, the cabinet today met to discuss, among other matters, the vexed Cauvery issue.  
Although Jayalalithaa was not personally present in the meeting, Panneerselvam sat through the meeting with a large photograph of her placed on his desk.  
Panneerselvam did not take the Chief Minister's chair which was kept vacant. 
Although the government did not release details of the agenda of the meeting, the Cabinet is understood to have deliberated on the ongoing Cauvery water sharing dispute with Karnataka, besides other subjects. 
The meeting also comes ahead of the scheduled onset of north-east monsoon later this month. The rains in December last year had wreaked havoc, flooding Chennai and nearby districts. 
Last week, Tamil Nadu Governor Ch Vidyasagar Rao had allotted the portfolios including Home held by Jayalalithaa to Panneerselvam, till the time she returned to resume official duties. 
The nearly hour-long meeting was held in the backdrop of the ongoing Cauvery water sharing row with Karnataka and demands by Opposition parties for an all-party meeting on the issue.
Farmers' bodies and political parties had staged a two-day state-wide rail blockade ending Tuesday, urging the Centre to constitute the Cauvery Management Board. 
The Raj Bhavan had last week in a release, said Paneerselvam, who holds the Administrative Reforms portfolio, in addition to Finance, "will also preside over cabinet meetings." 
The last Cabinet meeting held by Jayalalithaa was in July this year to discuss the state budget. 
68-year-old Jayalalithaa was admitted to the Apollo hospital on September 22 after she complained of fever and dehydration. 
A specialist from London besides three-member team of doctors from AIIMS, Delhi, had also examined Jayalalithaa, who is being treated for infection with respiratory support.
(With PTI inputs)