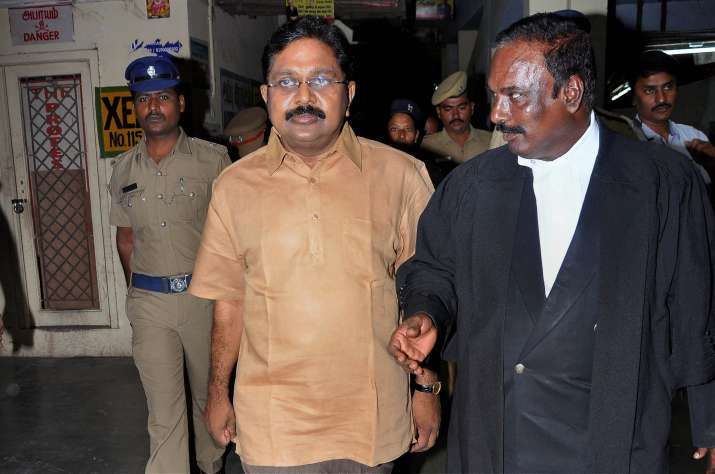 T T V Dhinakaran today warned of "surgical action" against Chief Minister K Palaniswami and rubbished the party statements questioning his appointment as AIADMK (Amma) Deputy General Secretary and that of party chief V K Sasikala. As Sasikala's handpicked CM raised a banner of revolt against her, Dhinakaran wondered how the Palaniswami camp could comment against Sasikala when they themselves had furnished an affidavit to the EC, endorsing her appointment as party chief. 
"They are talking something outside and have stated something different in the affidavit furnished with the EC," he said and claimed that such an attitude amounted to "cheating." 
He said when the Chief Minister's camp had agreed that Sasikala's appointment was done by the party leadership, the subsequent appointments done by her, including naming him as party deputy general secretary, was valid too. 
Dhinakaran, who is Sasikala's nephew, said his post was a nominated one and the party general secretary could name office-bearers to such posts. He asserted that the appointments he made were valid as well and these were in tune with party bye-laws. 
He also cited Sasikala naming Forest Minister Dindigul C Srinivasan as party treasurer. The Minister could operate the bank accounts only because his appointment by Sasikala was valid, he said. After the then treasurer O Panneerselvam was expelled from the party, Srinivasan was named treasurer. 
Dhinakaran said the same leaders who were now talking against them were the ones who had campaigned for him in the RK Nagar bypoll which was subsequently cancelled. Dismissing the meet chaired by Palaniswami as caused by fear and selfish motives, he said the AIADMK was in the control of the party chief and himself. 
"For sure all steps will be taken for the party's growth. If the situation warrants, surgical action will be taken," he said, adding it does not matter if it was Chief Minister Palaniswami or others. 
"We have the courage to take action and we have the support of cadres to do it." 
Without naming anyone, he said action would be taken against those who had "forgotten" about who had appointed them to their current positions in the government and those who had joined hands with rivals to continue on their posts. 
Palaniswami's name was proposed by Sasikala for CM's post at a hurried meet at a nearby resort after a Supreme Court order convicted her in an assets case. 
Dhinkaran said the Palaniswami camp's act of coming out against him was due to several fears and one of them was that he was going to start my state wide tour "to strengthen the party". 
"They have given these statements out of fear," he said. 
He claimed that the chief minister's camp had wantonly misinterpreted party rules to say that his appointment was against the party law and also questioned their using the letterhead of undivided AIADMK which was barred by the EC. 
Dhinakaran said the incumbent AIADMK regime was set up by party general secretary Sasikala and hence it should not face any threat. 
He said he still had the "good heart" of ensuring that the government does not face any "danger" because of the "selfishness and wrong moves" of some leaders. "Nothing of that sort will happen. But those who commit mistakes will correct it or they will be reformed," he said when asked if the government faced any threat. 
In the same breath, without naming the Palaniswami camp, he said "they only want to protect their office and are not worried about the party". 
He alleged that they were in the mindset of "decamping with whatever was available." 
Dhinakaran is perceived to command the loyalty of approximately 30-35 legislators in the 234 member House. 
"No one can confuse cadres... they are clear," he said adding that the people too were closely following. They knew who were "ungrateful" and who were "good people" and it would be reflected in the 2019 Parliamentary elections. 
To a question if he would welcome back Panneerselvam, he said "not only O Panneerselvam, even those from other parties are welcome".
'Palaniswami a traitor'
Earlier today, AIADMK leaders close to Dhinkaran hit out at Palaniswami for questioning the authority of the Deputy General Secretary, terming it as a "betrayal" and warned him of a backlash. Two senior leaders of the Dhinakaran camp also called Palaniswami a "traitor". 
AIAMDK's Karnataka unit secretary and Dhinakaran loyalist V Pugazhenthi termed as a "drama", the AIADMK Amma faction led by Palaniswami questioning the authority of Dhinakaran, besides that of jailed party chief V K Sasikala.
"These decisions are not binding on us. Party supporters will not accept this. They have poked their eyes with their own fingers," he told reporters. 
"We are holding consultations with our Deputy General Secretary (Dhinakaran). Anything can happen. This is the peak of betrayal where Palaniswami has ventured into," he said. Such decisions cannot be taken by a few office-bearers, as was done today, but is a larger exercise with a number of them required to take decisions, Pugazhenthi said. 
He vowed "to teach a lesson to traitors." The leader also alleged the possibility of role of former chief minister and rebel faction chief O Panneerselvam in today's developments. 
"There could be behind the screens agreement with Panneerselvam," he alleged. 
Another Dhinakaran loyalist, Nanchil Sampath, said the Chief Minister-led camp had come out with a "unilateral announcement" questioning the former's authority. 
"By doing such a thing, Panneerslevam has got an important place in the list of traitors. History has seen many traitors and this is another betrayal," he said. 
He questioned the Palaniswami camp's reasoning that  Dhinakaran's appointment was not valid for the fact that he had not been a member of the party for five years prior to the appointment, since the late Chief Minister and party supremo J Jayalalithaa had expelled him in 2011. 
Sampath recalled he had quit the Vaiko-led MDMK in December 2012 and was appointed the party's deputy propaganda secretary that very day by Jayalalithaa then. 
"Where were they then. Did these rules expire then?" he asked.
(With PTI inputs)