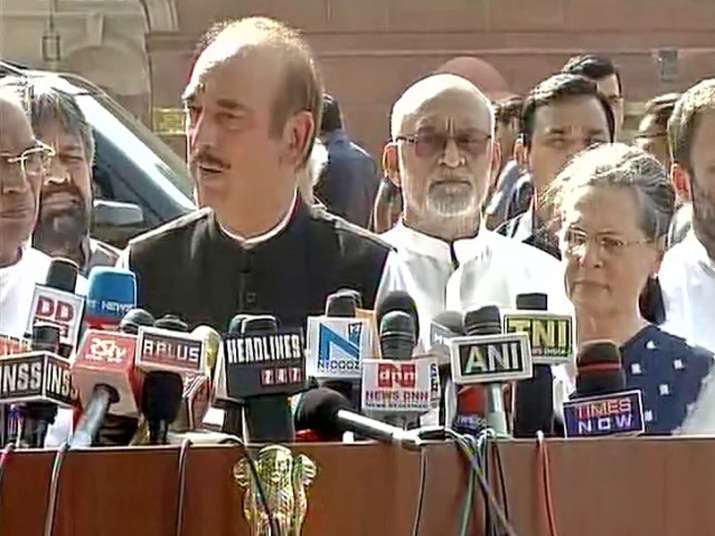 A delegation of 13 Opposition parties today met President Pranab Mukherjee and raised concerns over alleged tampering with the EVMs and sought his attention over an 'environment of fear and insecurity' in the country.
The delegation, led by the Congress, had leaders from several parties including Left, TMC, DMK, NCP, JD(U), RJD, SP and BSP.
Congress president Sonia Gandhi, vice-president Rahul Gandhi and senior party leaders Ghulam Nabi Azad and Mallikarjun Kharge and Communist Party of India-Marxist General Secretary Sitaram Yechury were also part of the delegation that submitted a memorandum to the President.
Recent allegations of EVM tampering have raised questions on electoral process: GN Azad after opposition party delegation met president pic.twitter.com/ZCmAaxMjUP

— ANI (@ANI) April 12, 2017
"Through our memorandum, we drew his attention to the recent critical developments which have seriously undermined governance and institutional integrity. The environment of fear and insecurity has been prevailing in the country and voices of dissent are being muzzled," Azad, Leader of Opposition in the Rajya Sabha, said. 
He said that malfunctioning and tampering with EVMs have raised questions about the sanctity of entire electoral process, particularly the recent elections to five state assemblies. 
Key bills are being disguised as money bill to bypass and undermine the constitutional position of Rajya Sabha: Ghulam Nabi Azad, Congress pic.twitter.com/BlRu44D8N3

— ANI (@ANI) April 12, 2017
The senior Congress leader said that the leaders of various opposition parties met the Election Commission authorities too on Monday and were assured of all-party meeting on the matter.