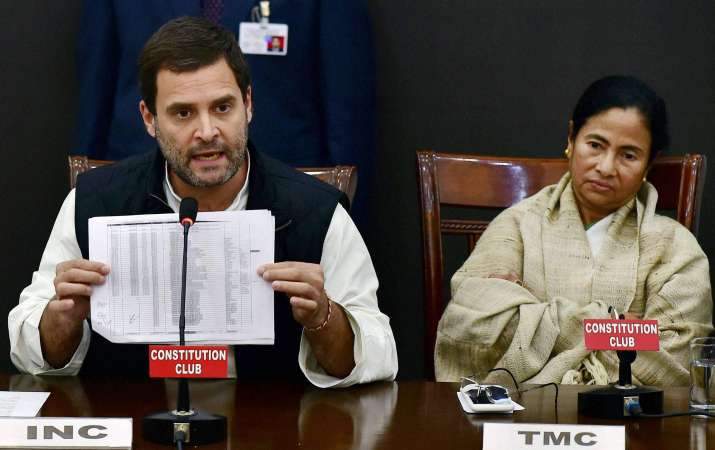 Opposition parties today conducted a joint press conference to take on Prime Minister Narendra Modi against his decision to scrap high denomination currency notes even as their unity cracked a day before with most parties pulling out of the presser.
Congress Vice-President Rahul Gandhi and Trinamool Congress supremo Mamata Banerjee lead the charge as they attacked PM Modi while addressing to the media at the Constitution Club in New Delhi. Other opposition parties that marked their presence were the Rashtriya Janata Dal, the DMK and Jharkhand Mukti Morcha.
Rahul demands action against PM Modi for bribe allegations
Rahul Gandhi started off by reiterating his demand for an inquiry into allegations against the Prime Minister receiving bribes from Sahara and Birla corporate houses when he was the Gujarat Chief Minister.
Gandhi has been repeatedly saying that Modi's name has figured in the documents listing those who have been paid alleged bribes by the corporate giants.
The documents were seized by the Income Tax Department in raids on Sahara and Birla offices in 2014. The documents have names of other politicians, including Congress' Uttar Pradesh chief ministerial candidate Sheila Dikshit.
"The Prime Minister is telling the nation that he is fighting against corruption but when it comes to allegations against him, he does not respond," Gandhi said.
The Congress leader said while Modi was responding on all other issues, he was silent on questions raised on his "honesty and integrity".
Gandhi asked that when former Delhi Chief Minister Dikshit was open to an investigation, "why is the Prime Minister shying away from a probe". 
He said four of Congress ministers resigned when their names surfaced in Jain Hawala Diaries case. 
"The Prime Minister should be the first person to say if I am facing allegations, then there should be an inquiry," Gandhi said.
Mamata Banerjee seeks PM's resignation if cash crunch continues
Banerjee, also the West Bengal Chief Minister, said demonetisation decision was "illegal" and "unconstitutional" and has set the economy 20 years back. 
"Modi, you had asked for 50 days time, people were losing livlihood, dying due to starvation, yet they gave you that time. Now 47 days are over, and only three days left," said Banerjee referring to Modi's 50-day deadline nearing its end.
"We will wait for the next three days. But Modi, if things remain unsolved, will you take the responsibility and resign as the Prime Minister of the country," she asked. 
"In the name of demonetisation you have plundered the entire country, over 10 crore people have been rendered unemployed. You have looted money from the poor to give relief to the corporates who have created huge nonperforming assets for the banks.
"GDP has sustained huge losses, the economy has set back by 20 years. This is a mega scam, the biggest scam after independence," she said adding that the opposition parties will make a common minimum programme over its demonetisation protests. 
Accusing Modi of destroying the country's federal structure, she said that Modi neither took parliament into confidence before taking such a huge decision nor he bothered to make even one line statement in parliament after implementing it.
"This is not just unethical but also illegal and unconstitutional," said Banerjee.
She also took a jibe over the Modi government's push for a cashless economy. 
"Even as advanced economy like the US has around 40 per cent cash transactions and he (Modi) talk about cashless economy. In the name of cashless economy, Modi government has gone baseless, it has gone faceless," she quipped. 
She also alleged of a "hidden agenda" behind the demonetisation and said the Modi government has become weak.
"If the government is weak, the country becomes weak. Demonetisation has made the whole country unstable. This government must go, otherwise the people will throw it out," added Banerjee.
(With IANS inputs)