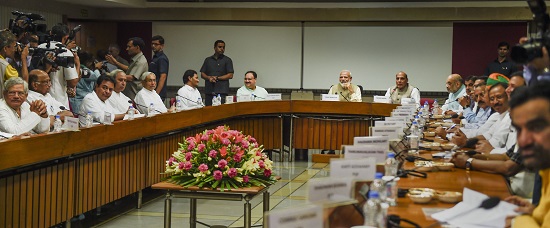 'One nation, one election'- a meeting called by Prime Minister Narendra Modi to deliberate on the proposal took place today. Eight key opposition parties skipped the crucial meeting in New Delhi. 
Here are key points of the crucial meet you need to know:
1. Besides the Bharatiya Janata Party, those who attended the meet included Akali Dali's Sukhbir Singh Badal, NCP Chief Sharad Pawar, Janata Dal-United leader Nitish Kumar, BJP President Naveen Patnaik, YSR Congress party chief YS Jagan Mohan Reddy, CPI's D Raja and S. Sudhakar Reddy, CPI-M's Sitaram Yechury, TRS President KT Rama Rao, National Conference leader Farooq Abdullah and Peoples Democratic party leader Mehbooba Mufti. 
2. Among those who skipped the meeting were Congress, Aam Aadmi Party, Bahujan Samaj Party, Samajwadi Party, DMK, Trinamool Congress, Telugu Desam Party and Rashtriya Janata Dal. 
3. The aim of the meeting was to discuss PM Modi's initiative of holding simultaneous elections across the country and the Niti Aayog's proposal to fast-track the socio-economic conditions of 117 districts across 28 states. 
4. The government had invited the chiefs of all parties represented in Parliament for the meeting.
5. The meeting was also expected to discuss the 150th birth anniversary of Mahatma Gandhi this year and celebration of 75 years of India's independence in 2022.
6. Union Ministers Rajnath Singh, Amit Shah, Nitin Gadkari, J.P. Nadda and Pralhad Joshi along with other National Democratic Alliance (NDA) partners attended the meeting.
7. Mayawati tweeted on Tuesday morning saying she would have attended the all-party meeting if it was on electronic voting machines (EVMs).
8. Sources said that the Opposition parties are wary of the meeting convened by the prime minister as they feel this might be a "trap" set by the BJP and needs proper discussion before going ahead. 
9. Last August, the Law Commission had recommended holding simultaneous elections to the Lok Sabha and state assemblies to save public money. The draft, submitted to the Law Ministry, however, cautioned that "holding simultaneous elections is not possible within the existing framework of the Constitution". The Centre has been toying with the idea for quite some time now. 
10. The government think-tank, NITI Aayog, had last year suggested synchronized two-phase Lok Sabha and Assembly polls from 2024 to ensure minimum campaign-mode disruption to governance.