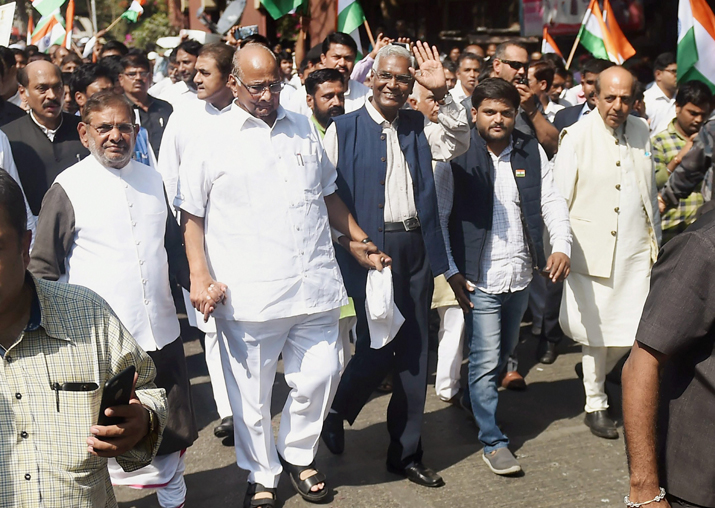 Opposition leaders Sharad Pawar, Sharad Yadav, D Raja, Hardik Patel, Omar Abdullah, Dinesh Trivedi and Sushilkumar Shinde today participated in a 'Save Constitution' march in a bid to being all 'like-minded' political parties onboard ahead of the 2019 general elections. 
Former Jammu and Kashmir CM and National Conference working president Omar Abdullah said that the 'Save Constitution' march here was an attempt to protect the "constitution under threat". 
"Since 1947, we have been deriving our identity from the Indian Constitution. We all have come here to send across a message that to save the country, the constitution should be protected," he said. 
The march which began from Dr BR Ambedkar's statue near Mumbai University and walked to Shivaji Maharaj's statue at the Gateway of India. 
Earlier, the leaders met at the official residence of Leader of Opposition in Maharashtra Assembly Radhakrishna Vikhe Patil in south Mumbai. Sharad Pawar (NCP), Sharad Yadav (rebel JD-U leader), D Raja (CPI), Hardik Patel (Gujarat's Patidar leader), Dinesh Trivedi (Trinamool Congress) and Sushilkumar Shinde (Congress) attended the meeting and joined the march. 
NCP leaders Praful Patel and D P Tripathi and former MP Ram Jethmalani were also present. The Trinamool Congress deputed Trivedi, former railway minister, for the march. 
आज गणतंत्र दिवस के अवसर पर मुंबई में डाॅ. बाबासाहेब अंबेडकर प्रतिमा से छत्रपति शिवाजी महाराज की प्रतिमा ( गेट वे ऑफ़ इंडिया ) तक संविधान बचाओ यात्रा में भाग लेते हुए। pic.twitter.com/K2loxIjlJl

— SHARAD YADAV (@SharadYadavMP) January 26, 2018
'Save Constitution' march is being largely seen as an attempt to consolidate the anti-BJP forces ahead of the 2019 Lok Sabha elections. 
"This is a silent morcha (march). After reaching the Gateway (of India), they will stage a sit-in for some time. There will be no speeches," Independent MP from Maharashtra Raju Shetti, convener of the march, said.
Maharashtra Congress chief Ashok Chavan and Mumbai Congress president Sanjay Nirupam also joined the march. 
BJP organises 'Samvidhan Samman rally'
Meanwhile, the BJP's Maharashtra unit organised a "Tiranga Yatra" in the city and dubbed it as "Samvidhan Samman rally" to counter the opposition's "Save the Constitution" (Samvidhan Bachao) march.
The saffron party's rally started from Chaityabhoomi and concluded at the Kamgar Stadium in Central Mumbai, covering a distance of around 2.5 km. 
Addressed a massive gathering at KamgarMaidan in Mumbai, assembled for #TirangaEkta Yatra this evening. #RepublicDay #प्रजासत्ताकदिवस pic.twitter.com/MmxW409vRP

— Chowkidar Devendra Fadnavis (@Dev_Fadnavis) January 26, 2018
At the venue, Chief Minister Devendra Fadnavis addressed a gathering and launched a scathing attack on non-BJP parties over their event that coincided with the Republic Day which marks the coming into force of the Constitution. 
"Those who are holding 'Save the Constitution' rally are actually hypocrites. They see only holes in our Constitution which is the soul of the country and fundamental to our democratic existence," he said. 
"While we are showing true respect to the Constitution drafted by Babasaheb Ambedkar, the opposition parties are fighting for their own existence," Fadnavis claimed. 
He mocked the opposition parties and questioned the legislative strength of some of them. 
"People are wise and they know their (opposition's) hypocrisy. Eighteen parties, some of them not having a single MLA or MLC, could not manage to assemble even 1,800 people," he said. 
"While you can see here (at the BJP rally) a huge number of people not only from Mumbai but also other parts of Maharashtra have come on roads to show their solidarity with the Constitution. This shows our patriotism and commitment towards serving the nation," the Chief Minister said. 
Fadnavis alleged that the opposition parties were enacting a "drama" in the name of the Constitution and trying to hide behind the statute book to mask their "failures".
"Whenever these people come to power, they take oath in the name of the Constitution and then loot the country. What they want to say? Is this so weak that it can be tweaked or broken? No. Not at all. Babasaheb Ambedkar has given us the world's most powerful Constitution," he said. 
Before starting the rally, BJP leaders and workers visited Chaityabhoomi, a memorial to Ambedkar, the chief architect of the Constitution, and sought his blessings. 
Fadnavis also spoke about his government's proposal to build a memorial to the Dalit icon on the Indu Mill land in Dadar. 
"When these people (Congress and NCP) were in power, they offered the mill land to builders and did not bother to give the same for the Babasaheb Ambedkar's memorial. However, when Modiji (Prime Minister Narendra Modi) took charge, he handed over the Indu Mill land worth Rs 3,500 crore within three days to (the state government) for the memorial," he said. 
Fadnavis also highlighted his government's mega farm waiver scheme announced in June last year and attacked the erstwhile Congress-NCP administration for ignoring farmers. 
"You people waived farmer loans of Rs 6,000 crore in over a decade, while we waived farmer loans (till now) worth over Rs 23,000 crore (within two years of coming to power)," he noted.
"Companies and investors across the globe have shown faith in Maharashtra. We have got investment of more than Rs 1 lakh crore in the last two-three years," he added. 
Fadnavis, who attended the World Economic Forum at Davos, said, "Earlier, no head of a foreign country used to pay attention to Indian leaders or Prime Ministers. But ever since Modiji has started representing India at the global stage, there is a scramble among international leaders to have a photo session with him."
Mumbai BJP chief Ashish Shelar said the opposition parties have no moral right to hold "Save the Constitution" rally. 
"They should have held such a rally when slogans like 'Bharat Tere Tukde Honge' were raised or when AIMIM leader Asaduddin Owaisi opposed the singing of Vande Mataram," Shelar said.
With PTI Inputs