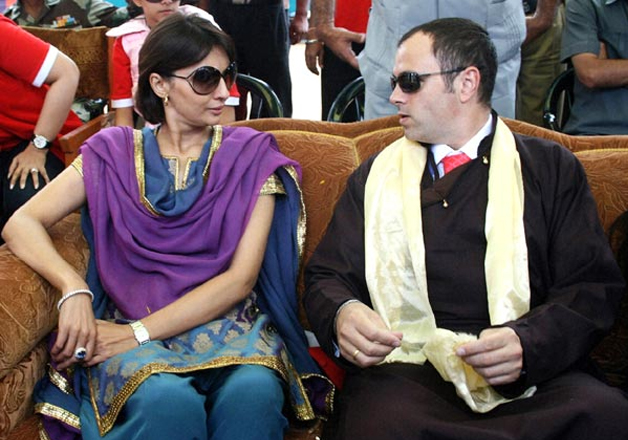 Former Jammu and Kashmir Chief Minister Omar Abdullah's estranged wife Payal Abdullah has moved a family court here seeking maintenance of Rs 15 lakh per month from him.
This comes barely a fortnight after Payal was evicted from the bungalow in Lutyen's zone where she was living since 1999. She has blamed Omar for the way the authorities reacted following the Delhi High Court ordering her eviction. 
In her plea, Payal has claimed that she and their children are homeless and penniless after their eviction from the J&K government's type VIII bungalow on Akbar Road.
She has requested the court to direct Omar to provide her Rs 10 lakh monthly maintenance for herself and her two sons and Rs 5 lakh for a new accommodation.
Payal has also claimed that she and her children are Z and Z Plus-category security protectees but the eviction has made them vulnerable to security threats.
Her counsel Jayant K Sud informed that family court judge Arun Kumar Arya has issued a notice to Omar seeking his reply on Payal's plea.
The court has fixed the matter for further hearing on October 27, Sud said. 
Action to evict Payal was initiated on August 22 by the state authorities following a Delhi High Court order on August 19. The court had asked her orally to 'gracefully' vacate the bungalow and termed her stay 'wholly illegal'.
Payal had approached the High Court after the trial court on August 16 asked her to move out of the house in Lutyen's zone here. Payal had said that she and her children be not evicted from 7, Akbar Road (type VIII) bungalow or an alternative accommodation be provided in view of their security status and threat to their lives.
The J&K government opposed Payal's stay in the bungalow, saying it was faced with an extremely piquant situation as it does not have an appropriate accommodation to house the Chief Minister in Delhi befitting her position and security imperatives. 
In her plea, Payal has also referred to the divorce petition filed by Omar, saying that his 'unreasonable withdrawal' from matrimony on 'absolutely unjustifiable grounds' caused her immense emotional distress.
On August 30, Omar's plea seeking divorce from Payal was dismissed by a court which said that he had failed to prove irretrievable breakdown of the marriage.
The court said that that he could not prove his claims of "cruelty" or "desertion" which were the grounds alleged by Omar for grant of decree of divorce.
In his plea seeking divorce from his wife, Omar had claimed that his marriage had broken down irretrievably and he has not enjoyed conjugal relationship since 2007 and that the couple, married on September 1, 1994, were living separately since 2009. The couple have two sons who are staying with their mother.
Payal stated that she always contributed her best to uphold the institution of marriage and 'is/was never interested in separation'