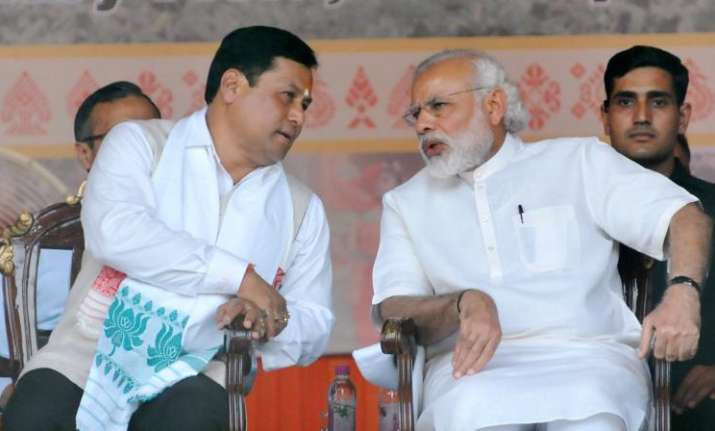 Congratulating the people of the state for the successful publication of the National Register of Citizens (NRC), Assam Chief Minister Sarbananda Sonowal on Monday said "the historic day will remain etched in their memories forever".
The much-anticipated second and final draft of the NRC with 2.89 crore names out of the total 3.29 crore applicants was published around 10am.
The process of publishing the complete draft on Monday was carried out in cooperation with the Registrar General of India, along with the central and the state government officials, under the direct supervision of the Supreme Court, the chief minister said.
Catch all the latest news about Lok Sabha elections 2019 HERE
"Assam is a peaceful state and I am confident that all sections of the society will come forward to maintain peace and tranquillity. We always abide by the directions of the Supreme Court, and whatever it says, we will sincerely follow and observe it," Sonowal told reporters here.
However, around 40.07 lakh applicants, did not find a place in the document, touted to be a proof of Assamese identity.
The first draft, with 1.9 crore names, was released on the intervening night of December 31 and January 1, this year.
A senior police officer said prohibitory orders under Sec 144 of CrPC have been imposed in all the 33 districts of the state as a precautionary measure in the wake of the NRC release.
The CM thanked the officials, who were involved in updating the NRC.
Sonowal also urged people not to panic if their names did not appear in NRC draft as genuine Indian citizens would get "full opportunity" to make claims and objections.
The NRC will include the names of all Indian citizens who have been residing in Assam before March 25, 1971.
The ground work for this mammoth exercise began in December 2013 and 40 hearings have taken place in the Supreme Court in this regard over the last three years.
The application process for the NRC started in May 2015 and a total of 6.5 crore documents were received from 68.27 lakh families across Assam.
Meanwhile, slamming the Central government on Assam's draft NRC which left out over 40 lakh people, West Bengal Chief Minister Mamata Banerjee on Monday accused the Narendra Modi-led government of doing "vote politics".
The Bengal Chief Minister also alleged that the Modi government was trying to evict people "forcibly".
"Forty lakh people including Hindus and Muslims were left out. All connections including internet have been disconnected which is unfortunate. Why were connections cut? We are not able to contact them. Is it an attempt to bulldoze them? We suspect.
"It is a game plan to evict humanity and human beings forcibly and an attempt to isolate them in order to do vote politics. We do not believe in divide and rule policy," Banerjee told reporters at the state secretariat Nabanna.
(With inputs from agencies)