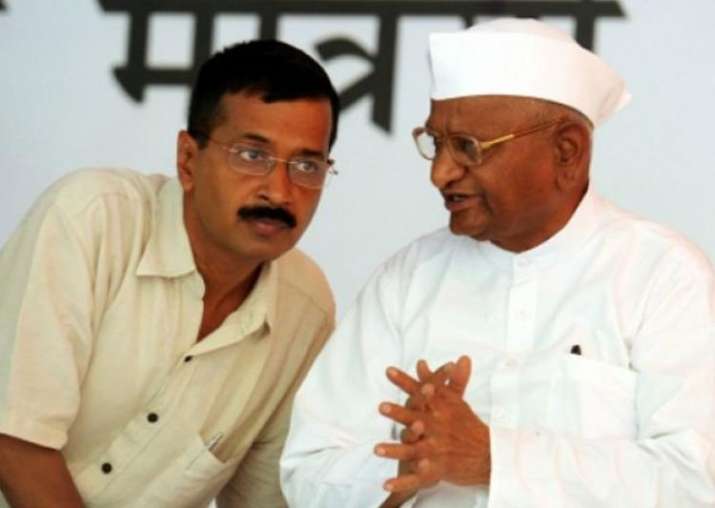 Doubts being raised by political parties in the aftermath of the recently-declared Assembly election results have found no resonance with social activist and anti-corruption crusader Anna Hazare.
Speaking to a news channel at his native village of Ralegan Siddhi in Maharashtra, Hazare said that there was nothing wrong in the use of Electronic Voting Machines in elections, and that the demands for the use of ballot papers would only push the country back in time.
"The whole world is moving forward and we here are discussing about travelling back in the time of ballot papers," Hazare said, asserting that the discussions should revolve around taking the country forward and not backwards.
Anna's comments come in the backdrop of several parties including the Aam Aadmi Party -- that was floated by his former aide and trusted lieutenant Arvind Kejriwal following the massive anti-corruption movement in 2012 -- blaming the EVMs for their lackluster performance in polls.
Ahead of the polls to the Municipal Corporation of Delhi (MCD) that were announced for April 22 on Tuesday, Kejriwal today raised doubts over the efficacy of the EVMs and faulted them for its debacle in Punjab where it was certain of forming a government.
According to Kejriwal, the EVMs were tampered with and that around 20-25 per cent of the AAP votes had been transferred to the ruling SAD, resulting in the Congress emerging the winner in the state. Addressing the media here, Kejriwal today said that there was a wave of AAP in Punjab and no one had predicted its loss in the state.
"Many said that there is anger against Akalis and AAP is sweeping polls, still AAP got 25 per cent votes and SAD got 31 per cent, how is it possible?" Kejriwal questioned.
Holding the Election Commission of India responsible for his party's poor show, Kejriwal said, "Election Commission's responsibility to keep people's faith in EVM. They cannot shirk responsibility."
Kejriwal had yesterday said that EVMs be replaced by ballot papers in the upcoming polls to the civic bodies in the national capital.
Hazare, on the other hand, has advocated that the Election Commission of India move forward from EVMs to totalizer machines that undertake counting region-wise and not booth-wise. When candidates find out which areas did not vote for them, they become vindictive and harass voters," said Hazare, adding that he has written to the EC and the Centre in this regard but was yet to receive a positive response.
BSP supremo Mayawati, outgoing Uttar Pradesh CM Akhilesh Yadav and Congress leader Ajay Maken have all alleged that the EVM machines were tampered to favour the BJP in the Assembly polls.