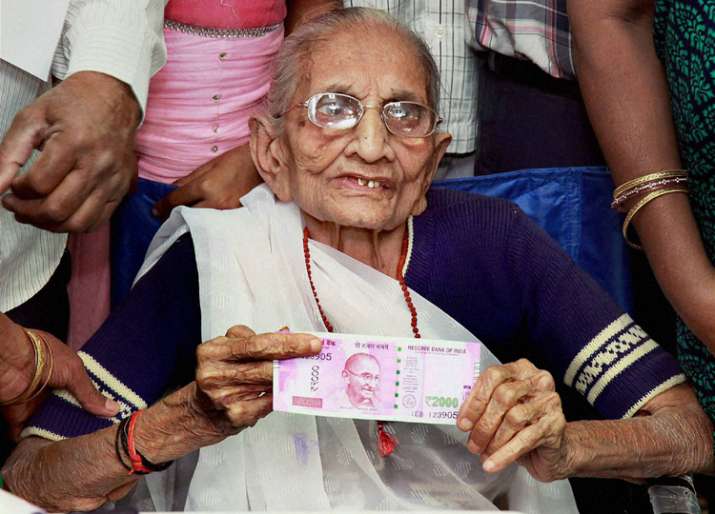 Congress Vice President Rahul Gandhi tonight refused to comment the visit made to a bank by Prime Minister Narendra Modi's 97-year-old mother saying he would "speak about his mother".
"Mine and Narendra Modi's styles are different. I won't speak about his mother," the Congress leader said when asked to comment on PM's mother standing in a bank queue.
PM Modi's mother Heeraben today visited a bank at her village near Gandhinagar, and exchanged her old notes as she lent her support to the demonetisation move, saying "whatever has happened is for good". 
Last week, PM Modi had taken a dig at Rahul when he stood in queue to exchange Rs. 4000 of old currency at a bank in Delhi. 
"Those involved in big scams, like 2G and coal scam,  now have to stand in queues to exchange Rs. 4,000," Modi had said, in a mocking tone during a speech. 
Rahul Gandhi tonight launched a vitriolic attack on Modi on demonetisation issue, Congress saying the prime minister was "laughing" while people were dying in queues outside banks and ATMs to withdraw money.
"Nearly 18 to 20 people died in queues and PM Narendra Modi was laughing. He should clarify whether he was laughing or crying," Rahul said, in an apparent reference to the PM's remarks in Japan and Goa. 
Taking on the Modi government on the eve of Winter Session of Parliament, he said many economists including former Prime Minister Manmohan Singh had found the decision to withdraw the high-value tenders to be without rationale. 
The government did not seem to be going after the "big players" in black money like Vijay Mallya and Lalit Modi, he said. 
He also claimed that BJP members were alerted beforehand about the demonetisation. 
"How can one explain the BJP people in West Bengal depositing crores in high-denomination notes just before PM's announcement on November 8?" he asked. 
"BJP workers were seen holding up bundles of the new Rs 2,000 notes, as seen from images on the Internet, before Modi announced this decision," Rahul told reporters in suburban Bandra. 
"This move by the Modi government will turn out to be a big scam," Rahul said, adding "I don't think even Finance Minister knew about demonetisation announcement. PM does not believe in his own people." 
"The PM took decision without thinking. We don't want to reverse it, but at least resolve the difficulties people are facing," he said. 
"The move will have serious repercussions on financial situation. I spoke to many economists including Manmohan Singh-ji and they said it had no economic rationale but an opportunistic decision based on political calculations." 
Rahul also questioned the logic behind introducing Rs 2,000 note after scrapping the Rs 1,000 note.
Meanwhile, a 78-year-old man, who had come to deposit cash at a state-run bank in Hyderabad died today after allegedly suffering a heart attack, police said. 
Laxman Rao, a retired government employee, came alone to the Marredpally branch to deposit Rs 1.5 lakh this morning and stood in the queue at the entrance of the bank, they said. 
"He collapsed on the bank's entrance steps and the policemen on duty immediately shifted him to a nearby hospital where doctors declared him brought dead," Deputy Commissioner of Police (North Zone) B Sumathi told PTI. 
"He died of heart-ailment... He had once suffered a heart attack and had been operated upon," the DCP said based on preliminary investigation.