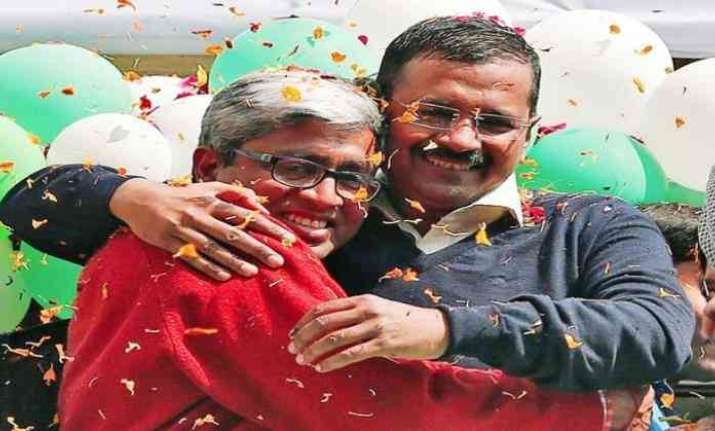 Delhi Chief Minister Arvind Kejriwal rejected resignation of one of its top leaders Ashutosh, who announced exit from the Aam Aadmi party on Wednesday, citing "very very personal reasons." Kejriwal said he will not accept it "in this lifetime".
Ashutosh's resignation is being interpreted differently with some Aam Aadmi Party (AAP) insiders claiming that he was unhappy over the party's decision to send a businessman to the Rajya Sabha from Delhi. Others claimed that he was "angry" over being denied a Rajya Sabha ticket by the party.
The convenor of the AAP's Delhi unit, Gopal Rai, said Ashutosh was not "angry", adding, "Everyone has the right to take personal decisions."
Ashutosh described his association with the Kejriwal-led party as "beautiful and revolutionary", while urging the media to respect his privacy and not to chase him for sound bites.
Reacting to the development, Kejriwal, who is the AAP national convener, tweeted: "How can we ever accept ur resignation (sic)?," and added in Hindi, "Na, is janam mein to nahin (not in this lifetime)".
The chief spokesperson of the AAP's Delhi unit, Saurabh Bhardwaj, told PTI that Ashutosh's resignation was not accepted and he was urged to reconsider his decision.
"Every journey has an end. My association with AAP which was beautiful/revolutionary has also an end. I have resigned from the party/requested PAC to accept the same.
"It is purely from a very very personal reason. Thanks to party/all of them who supported me throughout," Ashutosh tweeted earlier.
The party also rushed Deputy Chief Minister Manish Sisodia, Labour Minister Gopal Rai and AAP spokesperson Dilip Pandey to pacify Ashutosh, but he was not at his residence, sources said.
The journalist-turned-politician had joined the party after it first tasted power in December 2013. A known television personality, his joining the party had become a talking point at that time as he had quit as an editor of a noted Hindi news channel. 
He contested the 2014 Lok Sabha election from Chandni Chowk on an AAP ticket and managed to bag over three lakh votes, more than Congress veteran Kapil Sibal and over a lakh less than the BJP's Harsh Vardhan.
He was one of the key negotiators between Yogendra Yadav-Prashant Bhushan duo and Kejriwal when the founder leaders had crossed swords. He was also instrumental in bringing the rebel party MLAs like Devender Sehrawat and Pankaj Pushkar back in the party-fold. 
In a short-span, he won the confidence of party leadership and was also inducted in the Political Affairs Committee (PAC), the AAP's top decision-making body mostly comprising the founder-members and close confidants of Kejriwal. 
However, over the past few months, it was observed that Ashutosh, a regular party face before the media, had reduced his participation in the regular press conferences. 
A sequence of tweets and retweets by Kejriwal and Ashutosh is also indicative about unease between the two. 
Ashutosh last tweeted an article about the party and Kejriwal on August 1. He has not retweeted any of Kejriwal's tweet.
 
Kejriwal, known to retweet tweets critical of Prime Minister Narendra Modi and the Bharatiya Janata Party by scribes, fellow party men, and even Congress leader P Chidambaram, has not retweeted any of Ashutosh's tweets that have been lambasting the prime minister and his party over the last one month. 
Senior AAP functionary and Rajya Sabha MP Sanjay Singh said, "We all will request Ashutosh to take his resignation back."
He, however, added that his relationship with Ashutosh as a "true and dependable friend" will continue lifelong.
"His separation from the party is not less than a heart rendering incident for me," Singh tweeted.
Ashutosh, who was a member of the top decision-making body of the AAP -- the Political Affairs Committee (PAC) -- was "indifferent and less active" towards the party matters of late, a senior party leader said.
(With PTI inputs)