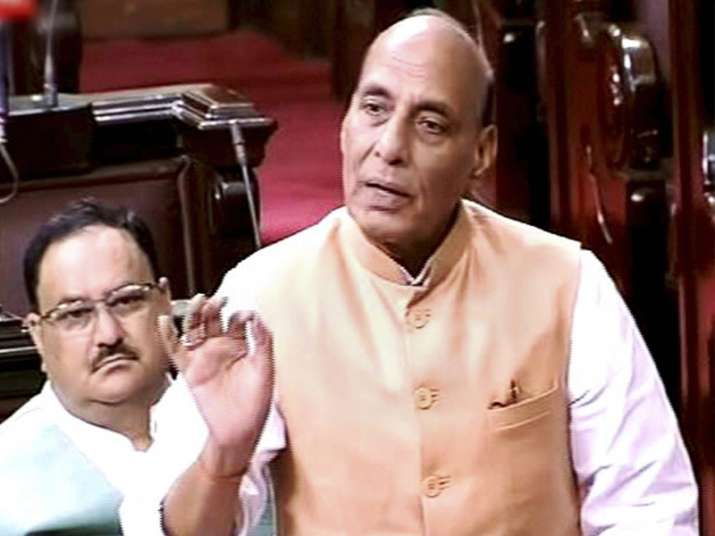 The government today said that around 80 people have been held in the country so far who are suspected to have been influenced by the terror group Islamic State's ideology.
During the Question Hour session in the Rajya Sabha, Union Home Minister Rajnath Singh noted that no input suggests that the radical organisation has established a base in India.
"There is no need to be worried about the radical Islamic State of Iraq and Syria (ISIS) spreading in India," he said.
Addressing members' concerns, he said if some youth get influenced by the radical ideology of the terrorist organisation, the government runs a counter-radicalism programme. 
Congress member Digvijaya Singh referred to some US-based intelligence websites and said these had claimed that Saifullah, who had been killed in an encounter in UP, was linked to the ISIS. He wanted to know the government's position on this. 
The Home Minister replied that the investigation in the case was going on. 
Minister of State for Home Hansraj Ahir said a few youth had got influenced by the online propaganda but the intelligence agencies have been maintaining a round-the-clock vigil. 
Overall, around 80 people, suspected to have been influenced, have been held and the National Investigation Agency (NIA) is looking into these aspects, Ahir said. 
He said in Kerala, it was suspected that 22 people had left the country to join ISIS and for 16, the government has worked to get Interpol notices issued. Such action has not been taken regarding the women and children among them, he said. 
Ahir said that India has a population of around 17 crore people belonging to the Muslim community and the number of people influenced is "quite miniscule". There is no reason to worry, he said. 
The minister added that religious leaders have also urged people to maintain distance from such terrorist organisations. 
The members sought to know whether lack of employment opportunities was pushing the youth towards ISIS to which Home Minister Singh said that several developmental programmes were being run in the country including those run for the minorities.
With PTI Inputs