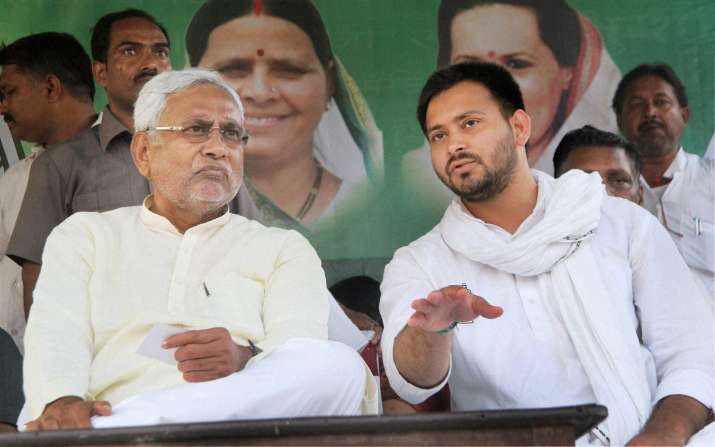 Bihar Chief Minister Nitish Kumar has reportedly decided against sacking Lalu Yadav's son and Deputy CM Tejashwi Yadav from his cabinet for the time being.
According to India TV sources, Nitish Kumar, who is presently in Rajgir, has told his close confidants that he will not drop Tejashwi from his cabinet till the time the CBI files chargesheet against him.
Nitish Kumar is facing immense pressure from the opposition BJP to sack Tejashwi from his council of ministers after the CBI on Friday conducted raids at the premises of RJD chief Lalu Prasad Yadav, his wife Rabri Devi and son Tejashwi Yadav in connection with irregularities in awarding tenders for IRCTC hotels in Puri and Ranchi in 2006 when lalu was the Railways Minister.
The CBI conducted raids at Lalu and his family's properties at 12 locations including Delhi, Patna, Ranchi, Bhubaneswar and Gurugram.

The CBI registered a case against Lalu Prasad and six other people on July 5 in connection with the alleged irregularities related to IRCTC hotels in Ranchi and Puri in 2006. 
The six other people are - former Bihar CM and Lalu's wife Rabri Devi, his son Tejashwi , PK Goyal, a former managing director (MD) of the Indian Railway Catering and Tourism Corporation (IRCTC),  Sarla Gupta, the wife of one of Lalu's close aides Prem Chand Gupta, Vijay Kochar and Vinay Kochar (both directors of M/S Sujata Hotels Pvt Ltd, owners of Chanakya Hotel)