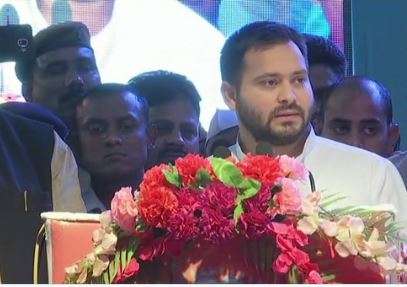 Former deputy chief minister of Bihar and Rashtriya Janata Dal (RJD) leader Tejashwi Yadav on Sunday attacked Chief Minister Nitish Kumar and said he is "helpless".
"Nitish Kumar has become so helpless that he is unable to take action against culprits. He has become so greedy that he doesn't see anything beyond his CM post. Now wherever he goes he is welcomed with shoes and he says that we are doing it," ANI quoted Yadav as saying.
Recently, a student protesting against reservation hurled a sandal at Nitish Kumar but it missed the target by a few metres.
The chief minister along with his senior ministers was present at a public function in Bapu Sabhgar in Patna when Chandan Kumar Tiwari threw the footwear at him.
Tiwari was quickly detained by the police. But some Janata Dal-United workers still managed to thrash him before the student was taken away.
Tiwari told the media he was against reservation and has been protesting against the Nitish Kumar-led National Democratic Alliance (NDA) government in Bihar.
(With inputs from agencies)