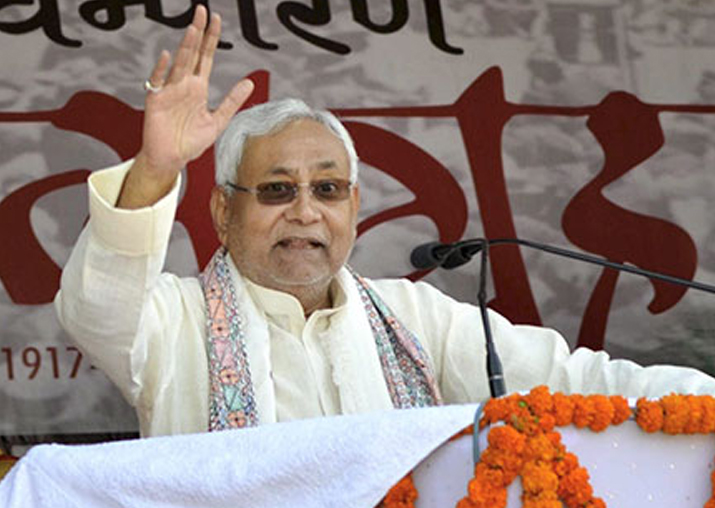 Bihar Chief Minister Nitish Kumar today embarked on a statewide "Vikas Samiksha Yatra" to take stock of the developmental schemes of his government on the ground. 
The Chief Minister is scheduled to review the development of eight districts during the first phase of his "yatra" over the next five days. His tour began today from Patilar village in Bagaha, a remote sub-division of West Champaran district. 
The "yatra" was earlier scheduled to commence on December 8, but was deferred till today on account of Kumar's ill-health. 
At Patilar, the chief minister launched a number of projects and dedicated them to the public. 
Kumar also addressed a public meeting, during which he highlighted his government's social reform measures such as the liquor ban and campaigns against child marriage and dowry. 
The JD(U) president's speech was briefly interrupted when some people, carrying placards, raised slogans to highlight the plight of the sugarcane farmers and alleged a tardy implementation of the schemes under the "saat nishchay" (seven resolves) -- promises made by Kumar in the run-up to the 2015 state Assembly election. 
Kumar told the protesters, "You are showing placards to me when I am standing in your support. If you have something to say to me, please do so in a proper manner after the programme is over." 
From Patilar, the chief minister travelled to Kataiya village in the same district and launched a number of projects there, before leaving for the adjoining East Champaran district, where he is scheduled to spend the night. 
Kumar is scheduled to visit two villages in East Champaran tomorrow, before chairing a meeting where he will review the development works in both East and West Champaran districts in the presence of the officials concerned. 
Meanwhile, Leader of Opposition in the state Assembly and former deputy chief minister Tejashwi Yadav took a swipe at Kumar's "Vikas Samiksha Yatra" and charged him with failure to complete projects that were launched long ago. 
In a series of tweets, Yadav accused the Chief Minister of committing a "dacoity of mandate" -- a reference to the JD(U) chief parting ways with the RJD and the Congress and forming a new government in the state after joining hands with the BJP -- and said, "Nitish should go on a prayashchit yatra (repentance tour)." 
He also alleged, "The CM had laid foundation stones for a school and a health centre in Champaran during a similar yatra in 2009. Neither of the two projects has been completed."