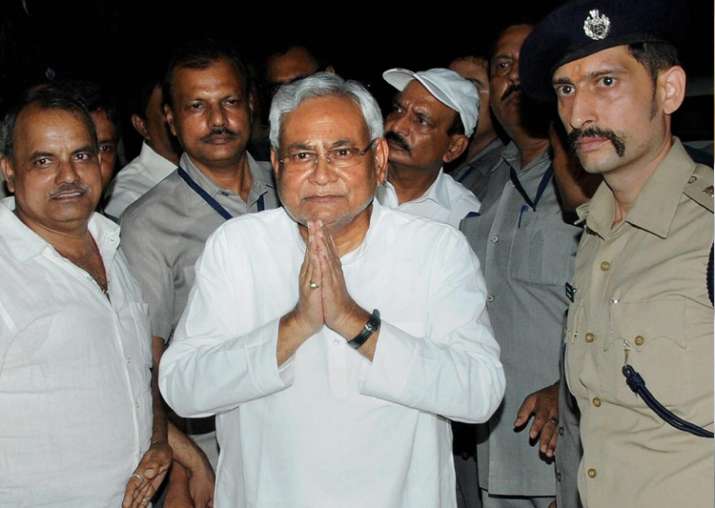 Bihar Chief Minister Nitish Kumar resigned today, citing irreconcilable differences with ally RJD on the issue of corruption charges against his deputy Tejashwi Yadav. "In the circumstances that prevail in Bihar, it became difficult to run the grand alliance government," Kumar told reporters outside Raj Bhavan after submitting his resignation to Governor Keshri Nath Tripathi. 
The sudden development throws the politics of Bihar into chaos with no party having a majority in the 243-member Assembly. While the JD(U) has 71 seats, RJD headed by Tejashwi Yadav's father Lalu Prasad Yadav is the single largest party with 80 seats. The Congress party has 27 MLAs whereas the BJP has 53 seats.
Kumar, however, did not rule out taking BJP's support in forming a new government. "I tried to work it out....I did not ask for anybody's resignation...I just asked Tejashwi to explain the charges of corruption," he said. While Nitish's decision may be seen as an abrupt decision, the gridlock that matters cme to had been in the making for quite some time.   
A timeline of how events unfolded in last two months: 
May 13: Lalu's daughter Misa laundered money to buy a farmhouse in Delhi, claims Sushil Modi
May 13: Union minister and LJP leader Ram Vilas Paswan questions silence of Nitish on land deals involving Lalu and family member
May 16: I-T conducts raids at over 22 places in Delhi and Haryana in connection with alleged Rs 1,000 crore benami land deals involving Lalu 
May 17: At least half a dozen persons were injured in a violent clash between RJD and BJP workers in Patna.
May 18: BJP workers burnt the effigies of Lalu and Nitish to protest an alleged attack on the BJP office and its workers.
May 19: Lalu refutes reports of I-T raids on alleged benami property deals involving him and his family, vows to uproot the BJP-led NDA government at the Centre before it completes its five-year term.
May 22: BJP leader Shatrughan Sinha came out in support of Lalu saying 'enough of negative politics and mudslinging'.
May 22: BJP dares Nitish to confiscate the alleged benami properties of Lalu Prasad and his family, and use them to open schools for poor children.
May 23: The Enforcement Directorate arrests the chartered accountant of Misa Bharti in connection with an alleged money laundering case.
May 29: Sushil Modi accuses Rabri of acquiring valuable land allotted to minister Abdul Bari Siddiqui and former minister Sudha Shrivastava when she was the Chief Minister of the state. 
May 24: The Income Tax Department summons Misa Bharti and her husband in connection with a benami property case.
June 4:  Sushil  Modi  writes a letter to  Nitish  asking him to cancel the plot of Lalu  got it allotted in violation of the MLA Cooperative Society's bye-laws. 
June 6: Misa Bharti's lawyer represented her before the Income Tax Department in benami property deals. The I-T slaps fine of Rs 10,000 for not heeding I-T summons.
June 10: Alliance partners of the NDA in Bihar are upset with the BJP and in touch with the RJD. Many NDA leaders also want to join his party: Tejashwi Yadav
June 12: Misa again fails to appear before I-T department in benami land deals 
June 20: Income Tax attaches 12 plots of Misa Bharti, her husband Shailesh Kumar and Tejaswi Yadav and others as parts of its probe in the over Rs 1,000 crore benami land deals.
June 21: Misa Bharti quizzed by IT officials for 5 hours in benami land deals 
June 22: JD(U) supporting Ram Nath Kovind in presidential poll won't impact Grand Alliance: RJD's Tejashwi 
June 25: "Nitish  committing a historic blunder by extending his support to Kovind," says Lalu Prasad Yadav. 
June 25: Sushil  Modi says Nitish  has started "correcting his mistakes by extending support to Ram Nath Kovind, the NDA's presidential nominee'. "Actually, Nitish Kumar has begun to correct his mistakes by extending his support to Kovind."
July 5: Lalu appeals to all non-BJP and like-minded parties to come together to defeat the BJP in the general election of 2019.
July 5: Sushil Modi calls Lalu the 'Robert Vadra of Bihar'. "Lalu Prasad is the Robert Vadra of Bihar. Over 125 properties acquired by Lalu and his family fall under benami transactions. It is his (Lalu's) nature to give ministerial berths in return for land."
July 7: CBI raids at over 12 locations of RJD chief Lalu Prasad, his wife Rabri Devi and son Tejashwi Yadav for allegedly receiving a three-acre plot of land as a pay-off in leasing two railway hotels to a private company when he was the Railways Minister.
July 7: CBI files case against Lalu, family after searching premises in railway hotel tender scam 
July 7: Lalu denies the charges and dubbed the CBI raids a political conspiracy done at the behest of the BJP.
July 7: BJP brushes aside allegations of vendetta against Lalu. "The law is taking its own course. The government or the party (BJP) has no role in it, let me make it very clear."
July 8: Sushil Kumar Modi asks Nitish to undergo an 'agnipariksha' (trial by fire) by acting against his deputy for his involvement in a corruption case.
July 8: ED raids at three different properties owned by Misa Bharti in connection with a money laundering case
July 9: After spending three days in Rajgir, away from the Bihar capital, Nitish Kumar returns to his official residence in Patna.
July 10: Tejashwi Yadav will not resign, says RJD leader and state Finance Minister Abdul Bari Siddiqui after attending a two-hour long meeting of RJD legislators at Lalu's his official residence.
July 10: Nitish speaks over phone with Lalu after the CBI raided latter's residence.
July 11: ED grills Lalu's daughter Misa Bharti in connection with a money laundering case of over Rs 8,000 crore.
July 11: Nitish asks Tejashwi to give a 'fact-wise reply in public' to the corruption charges hurled at him.  but said the ruling Grand Alliance won't break. "So far, the reply or explanation given by them is not satisfactory. They should come out with fact-wise reply in public."
July 12: Tejashwi dubs corruption charges against him a conspiracy hatched by the BJP. "This allegation relates to 2004 when I was merely 14 years old, when my moustache and beard had not begun to sprout. Do you think a minor would have committed a scam? Some people including a section of the media are disappointed that there is no break up in the alliance."
July 12: Enforcement Directorate grills Lalu's son-in-law Shailesh Kumar in connection with its probe into over Rs 8,000 crore money laundering case against him and his wife Misa Bharti.
July 13: Nitish didn't sack Tejashwi Yadav to save his chair, says Hindustani Awam Morcha (Secular) president Jitan Ram Manjhi 
July 13: Sushil Kumar Modi rules out any tie-up with the JD(U) even if it snaps ties with Lalu's RJD.
July 14: Sonia Gandhi speaks to Lalu, Nitish to save Grand Alliance 
July 14: "Tejashwi will not resign. There is no question of his resignation," Lalu said after chairing a nearly three-hour-long meeting with senior party leaders and legislators at his official residence.
July 15: Deputy CM Tejashwi Yadav skips official event with Nitish 
July 16: Nitish Kumar did not say a word about Tejashwi while addressing his party legislators and senior party leaders at his official residence in Patna.
July 18: Tejashwi Yadav meets Nitish Kumar for over 40 minutes after attending Cabinet meet. It was their first interaction since the crisis surfaced.
July 19: Crisis is almost over, now the Grand Alliance is on track: JD(U) leader Shivanand Tiwari 
July 22: Nitish Kumar meets Congress vice-president Rahul Gandhi in Delhi amid tensions in Grand Alliance
July 26: Lalu Prasad Yadav rules out Tejashwi Yadav's resignation
July 26: Nitish Kumar submits resignation to Governor Tripathi