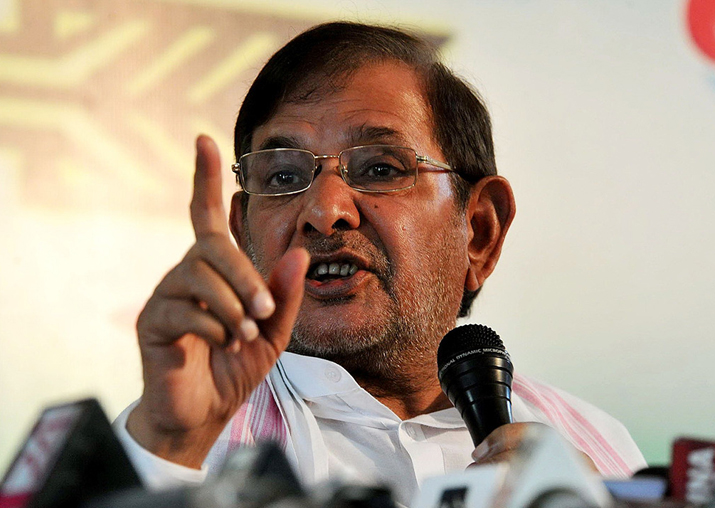 Rebel JD(U) leader Sharad Yadav today slammed the Centre over the state of the economy and incidents of cow vigilantism, while also hitting out at Bihar Chief Minister Nitish Kumar for choosing the path of power than following the party's philosophy.
In a show of strength, he addressed the national council meeting of the JD(U) where he targeted the BJP as well as Nitish.
Yadav would submit the affidavits signed by the council members to the Election Commission to prove that he has the support and the party name and symbol should be given to him.
The poll panel had recently refused to consider his plea on the grounds that it lacked supporting documents such as affidavits.
He said the BJP had promised to support the cause of development in the run up to the Lok Sabha polls, but it preferred to spend its energy on issues such as 'love jihad' and cow protection.
Yadav said that the people have suffered due to the note ban and implementation of the GST.
"When Yashwant Sinha and Arun Shourie from the BJP and Manmohan Singh and P Chidambaram from the Congress share the same view on the state of the economy, one has to agree that all is not well with the economy. They are the experts," he said.
Yadav said when then Prime Minister Indira Gandhi imposed Emergency, "We were in jail and had the satisfaction of fighting against it. Now you don't see it (emergency) but people are suffering, there are no jobs."
He said when the NDA was running on the principle laid down by Atal Bihari Vajpayee and L K Advani, Nitish left it.
"I had to agree for the sake of unity of the party. But now, after making efforts to cobble together grand alliance against NDA, he joined the NDA...his is the 'sarkari' JD(U) which preferred power. We chose the path of party philosophy," he said.
Yadav said despite Nitish ditching the grand alliance, it will survive in Bihar and spread across India.