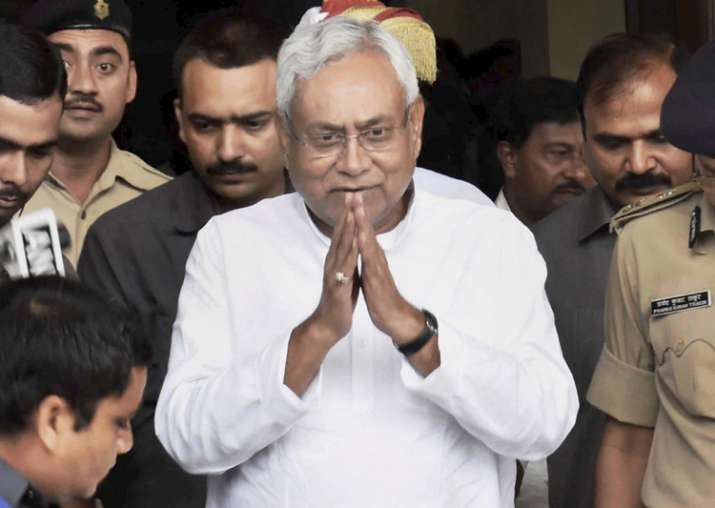 Bihar Chief Minister and national president of Janata Dal (United) Nitish Kumar has called a meeting of party MLAs at his official residence here today. Keeping the current political scenario in the mind, sources told India TV that a 'final' decision on his deputy Tejashwi Yadav's fate is likely to be taken at the meet. However, party insiders said that the meeting has been convened to discuss the presidential election, slated for July 17.
Also the four-day deadline set by the JD(U) for RJD to clear the air over corruption charges against Tejashwi, son of RJD supremo Lalu Prasad, is ending today. 
The development comes a day after the JD(U) stepped up pressure on RJD, asking it to come clean on the allegations against the Deputy CM, who is at a centre of a row over graft charges. Yesterday, JD(U) spokesperson KC Tyagi had said that 'Kumar will never compromise on the issue of corruption'. "Nitish Kumar's stand on corruption is well known. He will never compromise on it."
On Saturday, Tejashwi skipped an official function with Kumar in Patna, signalling deepening of crisis in the ruling Grand Alliance of which Congress is also a member. The name plaque of Tejashwi Yadav was first covered with a piece of cloth and soon removed from the dais. According to officials, Tejashwi's name plaque was earlier arranged along with that of Kumar on the table at an official function of the 'Vishwa Yuva Kaushal Divas' at Gayan Bhawan in Patna. But it was first covered with cloth and then hurriedly removed before the programme officially began.
JD(U) general secretary Shayam Razak, considered close to the Chief Minister, told reporters in Patna today that his party's stand is very clear that it will not compromise on corruption. "JD-U will not take back its own stand on corruption. Lalu Prasad has become old," he said.
Last night, RJD supremo Lalu had declared that his younger son Tejashwi will not resign and the 'Mahagatbandhan' is intact.
Bihar has been in the grip of a political crisis over the demand for the resignation of Tejashwi after the CBI registered a case against him in a benami property case and also raided his premises last week.