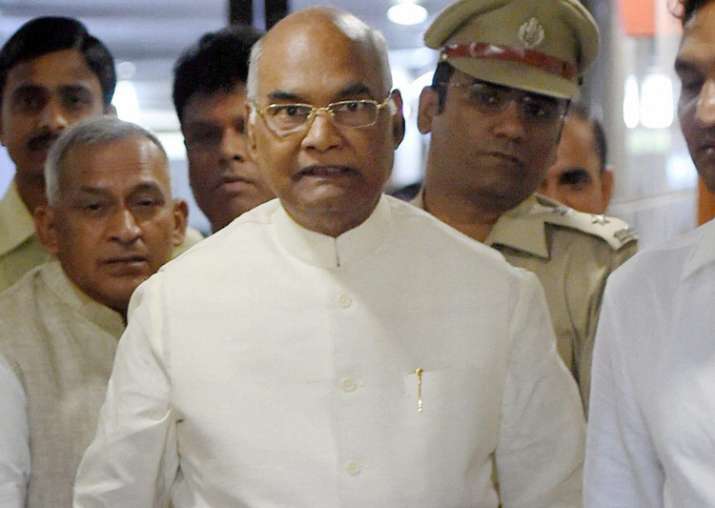 Bihar Governor Ram Nath Kovind has resigned from the gubernatorial post. The resignation follows his nomination as the ruling NDA's presidential candidate. 
President Pranab Mukherjee has accepted the resignation of Kovind as the Governor of Bihar, a communique issued by the Rashtrapati Bhavan said today. West Bengal Governor Keshari Nath Tripathi will discharge the functions of the Governor of Bihar, in addition to his own duties, it said. 
The BJP yesterday announced the name of 71-year-old Kovind, a low-profile Dalit leader and a two-term BJP Rajya Sabha member, as its nominee for the president's post. The presidential election, is required, will be held on July 17. He will file his nomination on June 23 as PM Narendra Modi will be embarking on a two-day US trip from June 24. 
Yesterday, Kovind had met PM Modi and BJP president Amit Shah in New Delhi. Speaking to reports here, Kovind had said that he will meet leaders of major political parties and seek their support to emerge as a 'consensus candidate' for the coveted post. 
"All those who are members of the electoral college...I will meet leaders of major political parties and seek their support...I hope that every citizen will support me," he had told reporters. 
Non-NDA parties like BJD, TRS and YSRCP have already announced their support to the Dalit leader. If elected, which appears to be a certainty, the 71-year-old former lawyer would be only the second Dalit to occupy the Rashtrapati Bhavan after KR Narayanan. 
With PTI Inputs