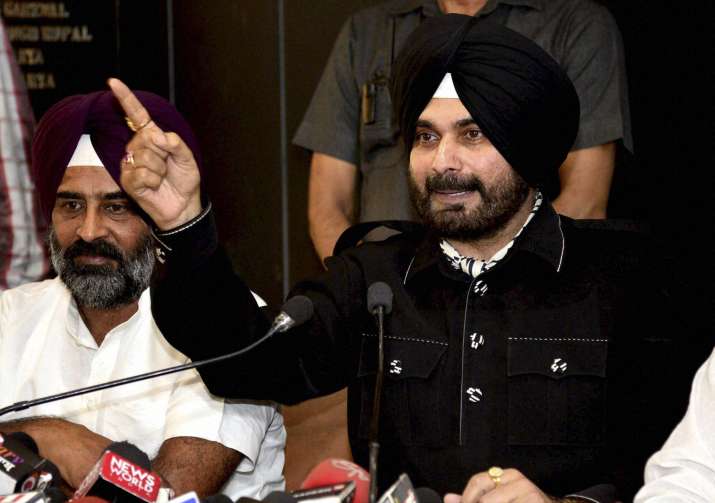 Launching a scathing attack on Navjot Singh Sidhu, the Aam Aadmi Party (AAP) today said that  his newly formed front 'Awaaz-e-Punjab' is the 'B-team' of  the Rashtriya Swayamsevak Sangh (RSS).
The party alleged that Sidhu's main target was Delhi Chief Minister Arvind Kejriwal and that his attack on Punjab Chief Minister Prakash singh Badal was just a diversionary tactics.
The AAP also pointed out that by forming a new front, Sidhu has accepted that he wants to become the Chief Minister.
"Navjot Singh Sidhu's press conference has made it clear that he is the B Team of the RSS. We were suspicious of him from the very beginning. He first wanted that the BJP should first contest polls all alone, but when it was not possible, he got separated with the blessings of the RSS," AAP's Punjab co-incharge and Delhi MLA Jarnail Singh said.
Sidhu had resigned from the Rajya Sabha last month. He held parlays with AAP soon after, but nothing had come of the discussions.
Rumours flew thick and fast that he wanted AAP to project him as the chief ministerial face for the Punjab polls and also demanded a ticket for his wife. However, Kejriwal in a tweet, had later denied it.
Singh, MLA from Rajouri Garden who was recently elevated as party spokesperson in Punjab, said during the launch of his party, Sidhu did not utter a single word against the BJP, which has been in power with the Akalis since that last 10 years.
Beside the Badals, Sidhu had hit out at Kejriwal at the launch, and said the Delhi CM had asked him to campaign for party and in lieu of which his wife would be made a minister.
"When I met Kejriwal I asked him to define my role in the party. Kejriwal wants only yes men...Arrogance in democracy is not acceptable. He also wanted me to be a decoration piece," Sidhu had said in his news conference.
Kejriwal is "anarchy in garb of democracy", he said.
Singh questioned why Sidhu had asked for an AAP ticket if the party was so bad.
"It is clear that Sidhu does not want to save Punjab, but has ambitions. How can a person save Punjab when he cannot relinquish his claim to a ticket," Singh added.
(With PTI inputs)