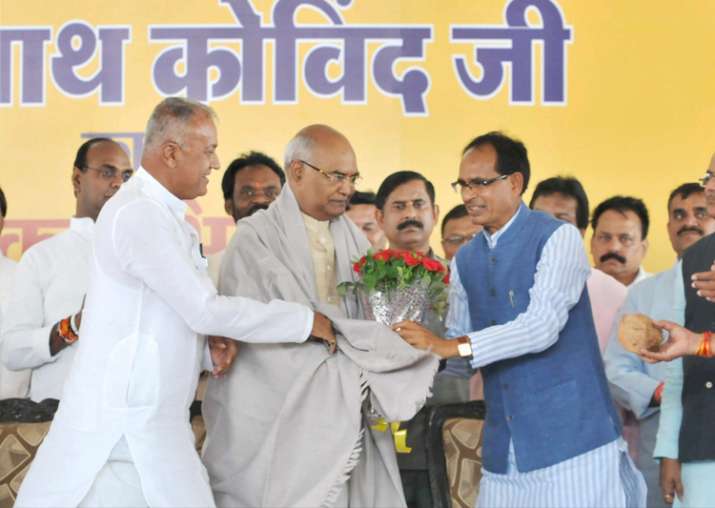 The NDA's presidential candidate Ram Nath Kovind, who is on a nationwide tour ahead of the July 17 election for the top constitutional post, arrived here for meeting MPs and MLAs from Madhya Pradesh.
Kovind, who landed at the Raja Bhoj airport by a special flight, was accorded a warm welcome by the ruling BJP at the state government's dedicated hangar at the airport. The Madhya Pradesh Congress, however, criticised the BJP for using the airport premises for according the welcome to Kovind, saying it comes after the controversial incident at the Goa aiport where Amit Shah addressed a party meeting.
Chief Minister Shivraj Singh Chouhan, along with his ministerial colleagues and senior party leaders, welcomed Kovind, who is scheduled to meet party MPs and MLAs later.
Speaking on the occasion, Chouhan heaped praise on Kovind, describing him as the "most able candidate" for the job. "Kovind's humble journey began from a village in Kanpur. He had also cleared the coveted Union Public Service Commission (UPSC) examination for the civil services, although he did not join."
"Later, he started practising in Delhi High Court as a lawyer and was chosen to serve as the secretary to former Prime Minister Morarji Desai. After that, he became a Rajya Sabha member for two terms and later appointed the Governor of Bihar," Chouhan added.
The CM recalled that Union minister Thawar Chand Gehlot and he himself were present at the BJP's Parliamentary Board meeting where Kovind was unanimously selected as the candidate for the highest constitutional office.
"Later, when party president Amit Shah informed other NDA partners about it, they all open-heartedly supported the decision," Chouhan said.
After the function, Kovind and Chouhan left for the latter's residence, where a meeting has been organised with party MPs and MLAs. Besides Gehlot, state BJP president Nandkumar Singh Chauhan and Rajya Sabha member Prabhat Jha were also present. 
Meanwhile, state Congress chief Arun Yadav slammed the BJP for using the airport premises for welcoming Kovind. "After the Goa airport incident, the BJP now erected a tent and dome for welcoming Kovind which amounts to misuse of public money."
Last Saturday, BJP president Amit Shah had addressed a party meeting at Goa's Dabolim International Airport. Congress has demanded a probe into the meeting, terming it as "illegal" and "gross abuse of power".