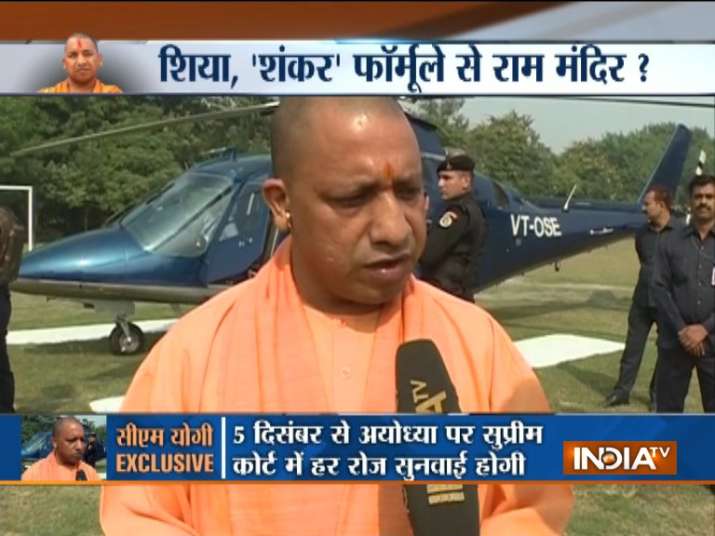 Uttar Pradesh Chief Minister Yogi Adityanath on Wednesday said that his meeting with the Art of Living founder Sri Sri Ravi Shankar was just a "courtesy call" and it is wrong to read something else out of it. 
Talking exclusively to India TV, Yogi said, "We have known each other for a long time. It was just a simple courtesy call and nothing should be read out of it. It is wrong to guess that meeting had some other purpose."
When asked to comment on Sri Sri Ravi Shankar's attempt to mediate a solution on Ayodhya issue, Yogi said "a solution to struggle through talks is welcome."
He said that if talks do not yield any result a solution will be found by the Supreme Court which will begin daily hearing in the dispute from December 5.
 He added that the government is not a party to Ayodhya issue but will extend all help if there is a chance of an amicable solution through talks. 
A senior state government official said the "courtesy meeting" between Yogi and Sri Sri lasted about 15-20 minutes and went off well.
"As far as the Ayodhya issue is concerned, Adityanath's stand is very clear. The state government is not a party. We welcome any settlement and will honour the decision of the court," he said.
Shankar had said in Delhi earlier this week that he was involved as a mediator in the Ram Temple dispute of his own will and would visit Ayodhya on November 16 to meet all stakeholders. 
He said he did not have an agenda and would listen to everybody.