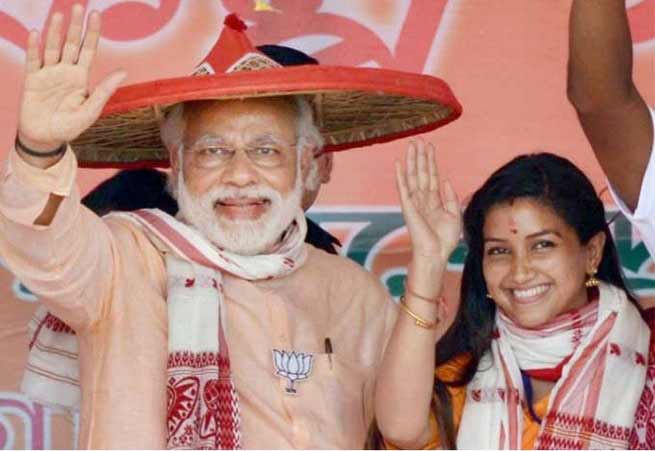 New Delhi: The Bharatiya Janta Party (BJP) created history on May 19 forming its first ever government in the Assam state, thereby ending the 15-year long reign of Congress. 
Sarbananda Sonowal today took oath as the first BJP Chief Minister of Assam. The oath of secrecy to Sonowal and his Cabinet was administered by Assam Governor PB Acharya.
While the newly elected government in Assam has several young faces, there is one name making headlines – Assamese actress turned politician Angoorlata Deka.
Angoorlata, who had joined BJP in December 2015, defeated Congress candidate and ruling MLA Goutam Bora from Batadroba constituency, a minority dominated seat, by a margin of close to 6,000 votes. 
It is important to mention here that she is one of the six female candidates who were given tickets by the BJP. 
Angoorlata, who hails from the small town of Nalbari, has worked in many Bengali and Assamese movies like Jonda Iman Gunda and Bakor Putek. 
With her performance in the film Sonar Kharu Nelage Moke, Angoorlata made an impact on Assamese cinemagoers and crtitics. For past eight years, she has been one of the most popular actresses of Assam.
Being passionate for dance, Angoorlata always had a dream to master at Kathak. 
The turning point in Angoorlata's life was when she met the famous actress Seema Biswas, who is also from Nalbari.