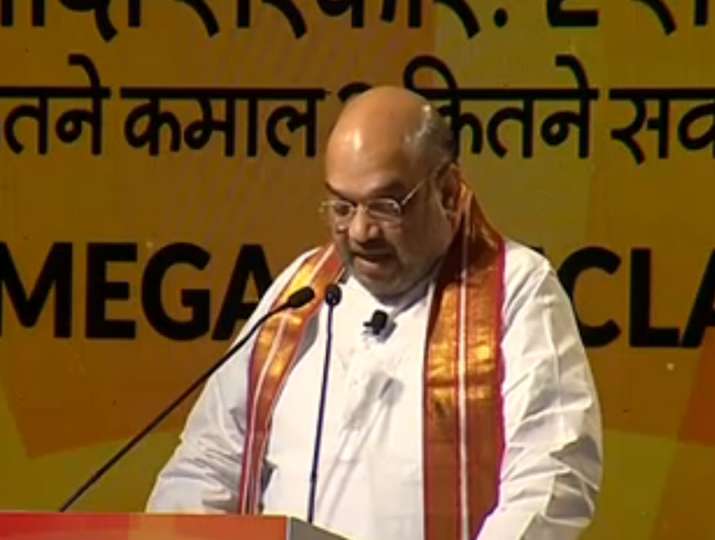 New Delhi: BJP president Amit Shah today slammed media for 'irresponsibly' handling the row over Prime Minister Narendra Modi's educational degrees. 
Speaking at India TV's Mega Conclave 'Samvaad' , he said that media didn't discharge its duty in a responsible manner. 
"Media should have understood that if such questions are  being  raised on the degree of Prime Minister… where are you taking the level of politics. If I would have not displayed the degree, the truth would never have come out. Media should have taken a responsible stand. It should not have given such space to this matter," he said.
Underlining government's achievement on economic front, Shah said," the whole sale price index has dropped, growth rate has hugely improved and  we have left China behind, FDI inflow has increased, the Inflation, CAD, Fiscal deficit has declined, Foreign exchange reserves have soared up, we have green signalled many pending projects.,the output in service sector has witnessed huge growth, India has grown by 68% in world economy in last two years."  
He also said that on  completion of two years in power, each department of the government has launched new initiative every 15 days. 
"In last two years the centre has launched Pradhanmanitri Jan Dhan Yojana, Pradhanmantri Awaas Yojana, Pradhanmantri Sukanya Samriddhi Yojana, Pradhanmantri Mudra bank Yojana, Pradhanmantri Jeevan Jyoti Beema Yojana, Pradhanmantri Suraksha Bima Yojana. Atal Pension Yojana, Adarsh Gram Yojana, Prahanmantri Fasal Bima Yojana, Pradhanmantri Garib Kalyan Yojana, Pradhanmantri Sichai Yojana,Make In India, Swacch Bharat Abhiyaan,Digital India, skill India, Beti Bachao Beti Padhao,Mission IndraDhanus, Udaan Scheme,OROP, Smart city mission,startup India, Stand up India, Gold monetisation scheme, Sagarmala projetc, Ujjwala Yojana etc," Shah said. 
'our initiatives are aimed for upliftment of poor section of society and to bring India in forefront of economic growth," he added.
Listing out a host of achievements of Modi government, Shah  said that centre's initiatives have reaped positive result.
"In 2015 India has produced highest quantity of Urea, ethanol till date, most number of LPG connections were provided in villages, highest coal production, highest power generation, highest no. of highway constructed  and highest production of motorcars since independence. India also took the highest jump  in World Bank's  ease of doing business list in 2015," he said.
Responding to the allegations that government is targeting Congress president Sonia Gandhi in AgustaWestland scam, Shah said, " There was a government for 10 years, which was involved in scams worth Rs 12 lakh crore (2G, AgustaWestland, Adarsh, CWG, Submarine, Coal). If I am not wrong, all scams were unearthed during their regime only, all cases were filed during their tenure only, we are only charging them."
Shah also took a swipe at Congress president Sonia Gandhi and said," Whoever is loyal to his/her country, don't loot it." 
When asked about the Uttarakhand crisis, Shah said," They lost Maharashtra, Haryana, Jharkhand, Jammu and Kashmir. On 19th they will lose 2-3 more states. This is verdict of the people, not of the BJP. When you run the government, it is your duty to control the government. If your (Congress) MLAs are turning rebels, it is your problem, not ours." 
When asked about a few of the party leaders  delivering unnecessary statements that are damaging the reputation of Prime Minister Narendra Modi, he said, "The perception of our government is good among the people. People are supporting  Modiji's policies. It is the responsibility of media to present the facts correctly. Such statements were made during Congress tenure too… no one needs to fear anything, this government believes in the principle of 'sabka sath sabka vikas' and this is our commitment. Prime Minister Narendra Modi has made it clear in the Parliament that the government will run according to the Constitution of India."
"I have stopped several people (within the oarty) from delivering such controversial remarks. We have nearly 11 crore workers, among them only 2-3 people say such things. You don't talk what Modiji says, what Home Minister says or Arun Jaitleyji says. I have time and again made it clear that these remarks are made in the personal capacity basis and party has nothing to do with them," he added.
On Subramanian Swamy's claim that the construction work of Ram Temple in Ayodhya will begin by year-end, he said, "Swamyji has not said that how it will be built. He has said that the temple would be constructed according to the SC verdict or through consensus. And everybody including the Muslim brothers have accepted this."
On Dadri lynching incident, the BJP chief said, "Media made the Dadri incident sensitive. Modiji has spoken on this. I want to ask you one thing, why the issue of attacks on Church are  raised during elections only, why intolerance debate is raked up during polls only?" 
To a question on reservation system in the country, he said, "Mohan Bhagwatji never said he was against the on reservation. And RSS too had issued a clarification. The BJP has also made it clear that the current reservation policy should exist. The issue of revision of reservation system is being debated now but I believe the time has not come to debate this."
On NIA's clean-chit to Sadhvi Pragya Thakur, he said, "I have not seen the NIA's report and  the chargesheet. And if anybody is unsatisfied, he can challenge it in the court."
"Few facts have come into light. The views are still the same on the matter," he replied to a question on Ishrat Jahan. 
On JNU controversy, he said "Stringent actions should be taken against the people involved in JNU incident."