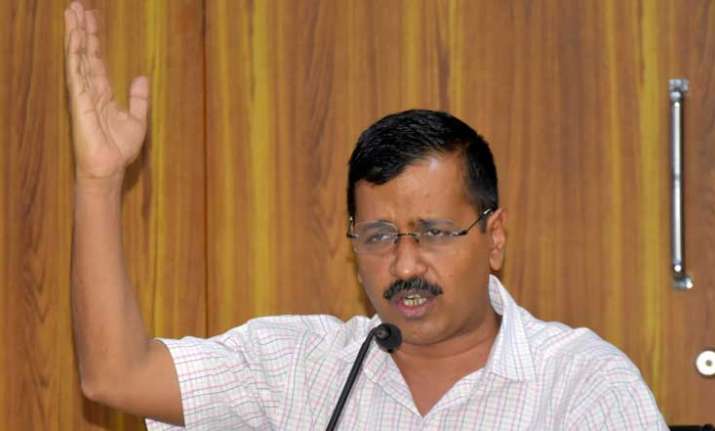 Delhi Chief Minister Arvind Kejriwal today asked the State Electionn Commission (SEC) not to use first generation Electronic Voting Machines (EVMs) brought in from Rajasthan during the upcoming civic polls in the state.  
He also demanded that only Electronic Voting Machines (EVMs) with Voter Verified Paper Audit Trail (VVPAT) should be used for April 23 civic polls in the state. 
"Generation 1 machines are most insecure with least security features. We are really surprised that you did not even ask for VVPAT machines," Kejriwal said.
"Why did you not at least make an attempt to procure VVPAT machines?" 
Kejriwal added there were sufficient number of Generation 2 machines available in Delhi which support VVPAT.
"Why are you insisting on conducting MCD elections with Rajasthan machines when it is clear that they are tampered?"
Kejriwal earlier this week alleged that 18 EVMs surfaced during the Dholpur assembly by-election in Rajasthan which voted only for the BJP no matter which button was pressed by the voters.
Earlier, another such EVM had surfaced during a mock drill in Bhind in Madhya Pradesh.
"We demand that all machines sourced from Rajasthan should be immediately withdrawn," Kejriwal wrote.
Reiterating his demand to have machines to be used in civic polls technically examined on a random basis, Kejriwal said the Commission went back on its word to allow it.
"I was happy when you said if there is a football match, the two teams have a right to inspect whether the football is in order. Now you are refusing to allow us technical examination saying you have sought permission from Chief Election Commissioner (CEC)," he said.
Kejriwal added the CEC had informed him that SEC was an independent body and did not need CEC's permission for anything.
"Now your refusal to allow technical examination of machines is curious."
Kejriwal said that public faith had seriously eroded in the entire electoral process and in EVMs and the SEC would have to walk an extra mile to restore it.
Kejriwal earlier this week blamed the Election Commission for "EVM-tampering" and said its only aim appeared to be to bring the Bharatiya Janata Party (BJP) to power.
He alleged that what was being dismissed as "EVM malfunction" was actually a case of tampering to ensure that the BJP gets the votes of even other parties.
According to Kejriwal, EVMs manufactured before 2006 are Generation I machines. Those made between 2006 and 2013 are Generation II EVMs and the ones made after that are Generation III EVMs.
Kejriwal says that the pre-2006 EVMs have no security features.
(With IANS inputs)