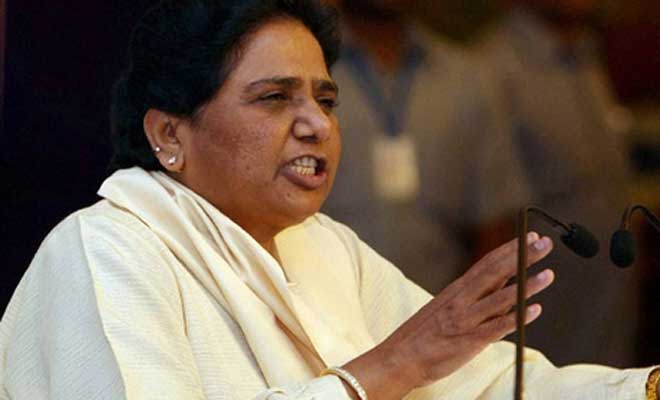 Ahead of the 2017 UP Assembly Elections, Bahujan Samaj Party (BSP) supremo Mayawati, in her second Uttar Pradesh rally in Azamgarh on Sunday, made a flurry of stringent attacks on SP chief Mulayam Singh Yadav and Prime Minister Narendra Modi. 
Targeting Bharatiya Janata Party, Mayawati said that the party does not have any candidates for the upcoming Vidhan Sabha elections, which is why they are depending on the "rejected mall" of the BSP and other parties. 
"They are including people who have either left BSP and other parties or have been expelled," she said.
BJP has no candidate in UP, that is why they are including people who have either left parties or are expelled: Mayawati in Azamgarh, UP

— ANI UP (@ANINewsUP) August 28, 2016
Samajwadi Party unable to control crime in UP
Addressing the rally in Mulayam's constituency Azamgarh, Mayawati attacked the ruling SP government in Uttar Pradesh saying that even the upper castes and the minorities are not safe in Uttar Pradesh and that the Samajwadi Party is encouraging "goondas and mafias". 
"UP me dehshat, danga aur crime ka maahaul hai. Muslim aur other minorities UP me surakshit nahi hain... (There is an atmosphere of crime and riot, even Muslims and minorities are not safe in UP)," said Mayawati. 
She said that the Samajwadi Party is incapable of controlling crime in the state, where women are getting raped daily. 
Cautioning the electorate on Samajwadi Party supremo Mulayam Singh Yadav's turf in eastern UP, she sharpened her attack on both BJP and ruling Samajwadi Party, saying they could go to the extent of engineering riots to reap electoral benefits ahead of the crucial polls.
She further added that if her party comes to power, the rule of law will once again be established in the state.
PM Modi forcing India into another battle with Pakistan
Making yet another harsh attack on Modi government, Mayawati said that the NDA government had adopted an ignorant attitude towards Muslims and other minorities. 
She further added that PM Modi's Independence Day speech was totally political and he is forcing India into another battle with Pakistan on the PoK issue. 
She further accused PM Modi of not fulfilling the promises he made in 2014. 
"To divert people's attention from the failures of BJP and the Centre, the government can go to war (with Pakistan) on the issue of Kashmir and terrorism," she said at a rally here.
Of the 10 assembly seats in the area, the Samajwadi Party holds a majority. Mayawati is now hoping to make a dent in eastern UP in the coming state polls, and chose Azamgarh for her first rally in the region which has a significant Muslim population apart from her Dalit vote base.