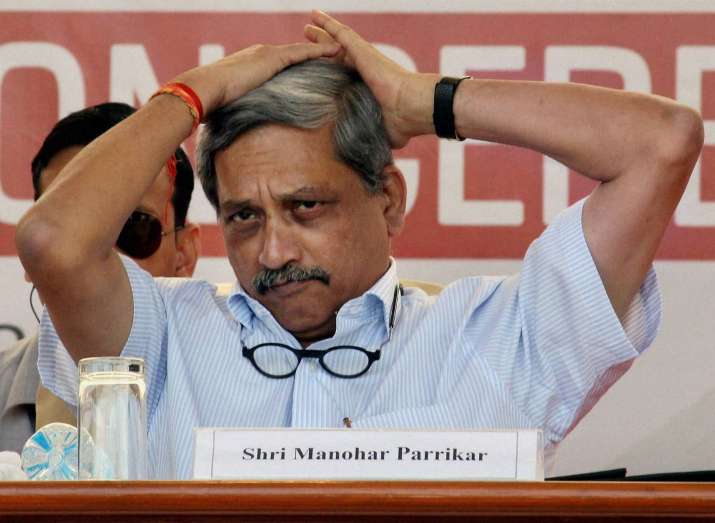 Criticising those seeking proof of India's surgical strikes across the LoC, Defence Minister Manohar Parrikar on Monday appeared to give credit to "RSS teachings" for the decision to launch Indian Army's anti-terror operation in the Pakistan-occupied Kashmir. 
"I wonder, with the combination of Prime Minister who comes from Mahatma Gandhi's home state, and I, Defence Minister, coming from Goa which never had any martial race, and surgical strikes. May be the RSS teaching was at the core, but this was quite a different kind of combination," Parrikar said in remarks that may trigger a row. 
Speaking at a function, 'Know my Army', organised at Nirma University here, Parrikar said the action of Indian Army, whom he described as the world's best, has increased the sensitivity among citizens regarding national security in a very effective way. 
The Defence Minister said the Army is giving befitting reply to ceasefire violations by Pakistan. 
Reacting to his statement, Congress spokesperson Manish Tewari said Defence Minister is a "national embarrassment" and he does not deserve to be the Defence Minister.
Parrikar also criticised those seeking proof of surgical strikes, without taking any names.
"From the day of the strike till today, some politicians are seeking proof," Parrikar said.
"When Indian Army says something we should believe it. It (Army) is world's best, professional, brave and having a very high integrity. I do not feel that anybody will seek proof from them (Army) here in Ahmedabad."
"There are people who will never get convinced even if definite proof is given," Parrikar said. 
Parrikar was referring to some sections which have been asking for proof about the surgical strikes. The Army has said the strikes against terror launch pads across the LoC was carried out during the intervening night of September 28-29. 
"Violations are regularly taking place for the last five-six years, you can take out figures. But the only thing that has changed now is that we are giving befitting reply," he said on ceasefire violations. 
"Two good things have happened after the surgical strikes. First thing is except some politicians, every Indian is rising in unison and standing behind our brave soldiers. 
And the second thing is we (Indians) have acquired sensitivity regarding national security in a very effective way," he further said, adding that he is receiving mails suggesting suspicious activities. 
"If people see anything wrong, they intimate the police or send me mails. Half of mails I get suggest suspicious activities happening. Many ex-servicemen are also offering their service for the nation, saying that they are retired but can still fight." 
To a question on security lapses, Parrikar said, "When you are doing things and if there are lapses in it, then mistakes should be rectified."
On the illegal sneaking-in of people in Gujarat from border adjoining Pakistan, Parrikar said, "BSF is tightening security at the border. You also know that this is a difficult area where we cannot put up fences as it is a marshy area. 
"But we will use technology and fill the gaps to ensure no unauthorised person enters our territory." 
Later in the day, Parrikar was slammed by Congress for his statement crediting RSS for Indian Army's operation. 
"Where the government is supposed to speak, where its diplomacy is supposed to do the job, there the government is an abject failure. But the Defence Minister is very quick to credit everyone, from mythology to the RSS, for the operations along the LOC (surgical strikes). 
"This leads to two conclusions--Manohar Parrikar does not deserve to be the Defence Minister, this man is a national embarrassment. 
"The operations along the LOC were unfortunately targeted more for the domestic consumption rather than changing the behaviour of Pakistan," he said. 
(With PTI inputs)