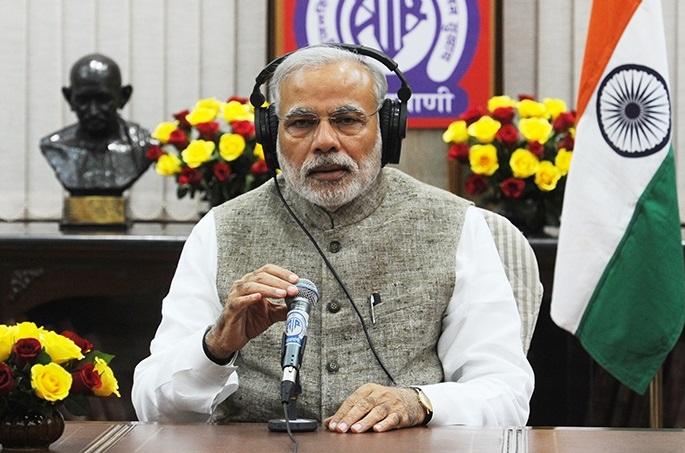 Prime Minister Narendra Modi on Sunday appealed the people, particularly the youths, to embrace e-banking and mobile banking for cashless transactions.
"I need your support," Modi said in his monthly radio broadcast "Mann Ki Baat" and asked young men and women of the country to teach at least 10 families everyday how to go cashless and make electronic payments.
"Take pledge to be a part of a cashless society from today. Not only this, you will also have to take time to educate at least 10 families everyday. Educate them on how to download apps, how to spend money using mobile phones, how to make payments. How to do business."
Modi said that he needed the youth of the country to lead the campaign so that "common people will be trouble fee" after learning cashless transactions.
"All youth of India can do it very quickly and within a month the world can see a modern India. Be a soldier of change and bring it on. We will fight the black money and corruption. We know it is you who can bring the change and revolution."
#MyMsmE Urge small traders to embrace technology by using banking apps & digital payment systems: PM Modi during #MannKiBaat pic.twitter.com/vfjwh7USni

— Ministry of MSME (@minmsme) November 27, 2016
The Prime Minister was speaking in the backdrop of his government's decision to scrap high value currency notes of 500 and 1,000 rupees aimed to curb graft and unaccounted wealth amassed by tax evaders in the country.
Earlier, before his 'Mann Ki Baat' radio address to the nation Modi tweeted: 
"Time has come for everyone, particularly my young friends, to embrace e-banking, mobile banking and more such technology."
The Prime Minister suggested that mobile should be used for the banking purposes.
"My mobile... My bank... My wallet," Modi said.
(With IANS inputs)