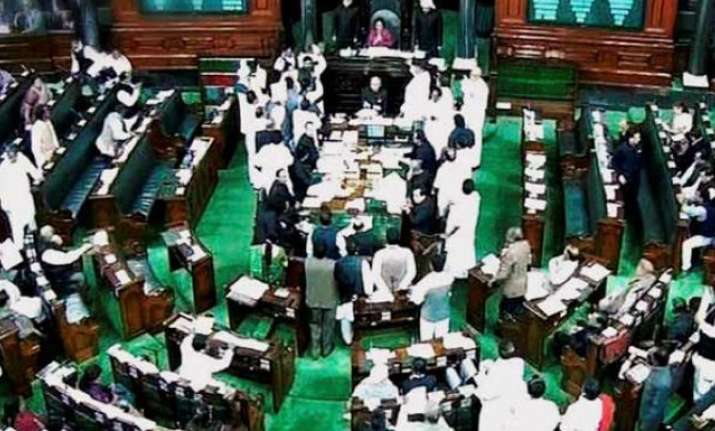 The Lok Sabha and Rajya Sabha witnessed massive uproar over PNB scam on the first day as the Budget session resumed, which led to both the houses getting adjourned for the day.
The Lower house was adjourned following uproar over several issues including the multi-crore Punjab National Bank (PNB) fraud, demand for special status to Andhra Pradesh and demand for increasing quota beyond 50 percent in Telangana.
After the house met at 12 p.m., following its earlier adjournment, opposition members from several parties including the Congress, Trinamool Congress, Telugu Desam Party (TDP) and Telangana Rashtra Samithi (TRS) were on their feet raising different issues.
Several members, including those from TDP and TRS, were displaying placards.
The papers were laid on the table of the House amid din. Speaker Sumitra Mahajan announced that she had accepted resignation of Nationalist Democratic Progressive Party leader Neiphiu Rio as a member of the House with effect from February 22.
As the sloganeering continued, Mahajan adjourned the house for the day. 
Earlier when the House met in the morning for its first sitting of the second half of budget session, similar protests were witnessed.
Trinamool Congress and Left raised slogans in protest against the alleged bank fraud amounting to over Rs 12,600 crore by jewellery designer Nirav Modi and his uncle Mehul Choksi who have fled the country.
TDP MPs protested seeking special category status to Andhra Pradesh.
Similarly, the Upper house was adjourned for the day on Monday amid uproar by the opposition over the PNB scam and other issues including NDA-ally TDP demanding special package for Andhra Pradesh. 
As soon as the Upper House met at 2 pm after witnessing two quick adjournments of proceedings in the first half of the day, members from opposition parties trooped into the well creating a ruckus over issues ranging from the Rs 12,700 crore alleged fraud by fugitive jeweller Nirav Modi, to constitution of the Cauvery Water Management Board. 
Amid slogans by the opposition like "Nirav Modi wapas lao" (bring back Nirav Modi), Deputy Chairman P J Kurien who was in the chair stood on his feet and urged members with folded hands to allow proceedings. However, noisy protests continued amid Kurien's remarks that "You are all agitated on separate issues. I know each subject is very important." 
Kurien said if members allow, a short duration discussion can be held on frauds in public sector banks and after that different issues could be taken one by one. 
He said for today, he has given permission to conduct a debate on frauds in public sector banks. However, members relentlessly shouted slogans and displayed placards like "Constitute Cauvery Management Board Immediately", "Keep your promises" and "Implement special category status Andhra Pradesh Reorganisation Act...". 
Stating that it was "indiscipline", Kurien asked Leader of the Opposition, Ghulam Nabi Azad whether the Opposition will allow a discussion, to which the Congress leader said that if other parties are ready, they have no objection. 
Azad further said the government and the prime minister had "failed" and banks are without money while likes of Nirav Modi were absconding. 
Kurien then adjourned the House for the day. Earlier proceedings were disrupted twice and the House saw two adjournments - first for 10 minutes and then till 1400 hours.