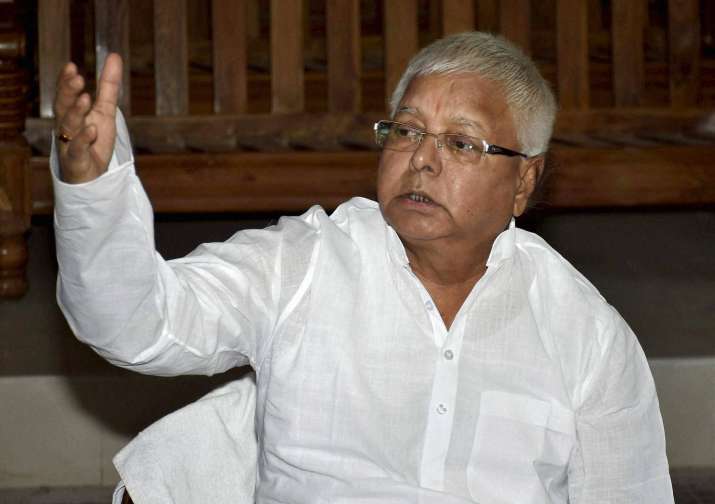 Amid war of words between alliance partners JD(U) and RJD  following Mohammad Shahabuddin release from jail, Lalu Prasad has said that the coalition government in Bihar was not formed 'foolishly' and the unity among its partners is 'rock-solid'.
"The grand secular alliance government in Bihar was formed not foolishly but after careful thinking," RJD supremo Prasad told reporters seeking to end the political furore. He advised leaders of the constituents parties to give whatever advise they have to give within their own parties.
President of three constituent parties of the alliance should hold jointly hold press conference, he said by way of a solution to display a stronger unity among the coalition. "There is a rock like unity in our coalition. Let bygones be bygones. We should forget what happened in the past and work together for future," he said.
"Nitish Kumar is the leader of the coalition," he said in a bid to clear air.
Prasad's peace making bid came in the wake of war of words between RJD and JD(U) leaders after release of party strongman Shahabuddin from jail on Saturday.
The furore was triggered by a statement of RJD vice-president Raghubansh Prasad Singh on Chief Minister Nitish Kumar while supporting Shahabuddin comment that Kumar was a "circumstantial CM".
"There are lakhs and lakhs of workers in our coalition and its natural there can be some difference of opinion. We will find its solution within the platform of the party," Prasad said. He had earlier criticised Raghubansh Prasad Singh for his "pricking remarks" time and again but had said Shahabuddin did not speak any derogatory thing. He had also sought to play down the controversy by saying that the turmoil has been created by media.
The RJD boss attacked the BJP for making a huge issue over Shahabuddin's release saying, "It seems BJP does not have any agenda except Shahabuddin,"
"BJP was trying to create wedge between coalition partners with a lust for power," he said.
On release of Shahabuddin from jail after 11 years, Prasad said, "Judiciary has done its work in accordance with the law and will continue to do so in future too.
PTI inputs