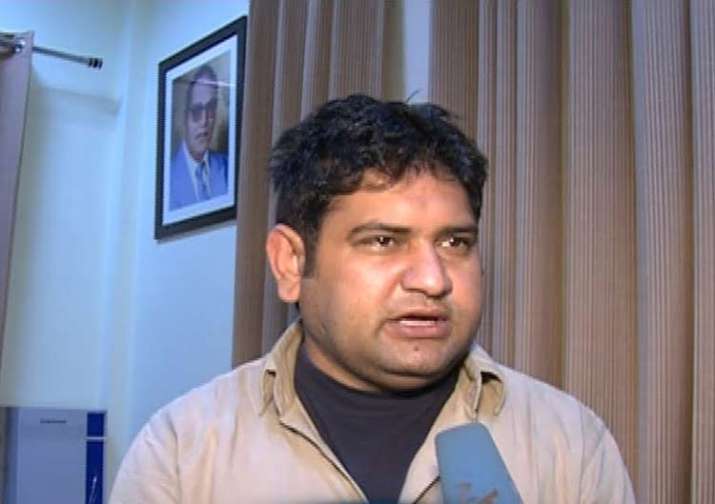 Delhi Chief Minister Arvind Kejriwal on Wednesday sacked his Women and Child Development Minister Sandeep Kumar after claiming to have received an "objectionable" CD of the minister. 
Kumar is the third AAP minister to be removed from the cabinet after Asim Ahmed Khan, who was Minister for Food and Supplies, and law minister Jitender Singh Tomar. 
Kumar has allegedly been caught on camera with two women. While there are 11 photographs of the minister with one woman, a nine-minute-long video shows him with another woman, reports said. 
Reports of the CD had apparently been doing the rounds in the political circles for a few days now. It is believed that even Kejriwal was aware of the same. Today, a formal complaint regarding the minister's acts were received by Lieutenant Governor Najeeb, who was set to act on the complaint.
It was then that the AAP government jumped into action to save itself the embarrassment.   
"Received objectionable CD of Minister Sandeep Kumar. AAP stands for propriety in public life. That can't be compromised. Removing him from Cabinet with immediate effect," Kejriwal said in a series of tweets on today. 
Recd "objectionable" CD of minister Sandeep Kr. AAP stands for propriety in public life. That can't be compromised(1/2)

— Arvind Kejriwal (@ArvindKejriwal) August 31, 2016
Removing him from Cabinet wid immediate effect(2/2)

— Arvind Kejriwal (@ArvindKejriwal) August 31, 2016
Sandeep Kumar held the portfolios of Social Welfare, and Child Development and SC & ST Welfare. 
He is an MLA from Sultanpur Majra assembly constituency of North West Delhi. 
34 years old, Sandeep Kumar is an old ally of Kejriwal and was associated with with Anna Hazare and his team in the movement of 'India Against Corruption'.
During the Delhi Assembly elections in 2015, he was elected from the Sultanpur Majra constituency by the highest margin of percentage of votes polled among all the constituencies of Delhi.
Sources said the decision to sack Kumar was taken at a hurriedly convened meeting of AAP's Political Affairs Committee at Kejriwal's residence. 
"We will not tolerate any such acts. We have 67 MLAs. If anyone including the Chief Minister is found involved in any wrongdoings, immediate action will be taken as AAP isdifferent from other parties," said Sisodia. 
On October 9 last year, Kejriwal had sacked the then Environment and Food Minister Asim Ahmed Khan for allegedly demanding a bribe of Rs 6 lakh from a builder and recommended a CBI probe into the case. 
In June last year, then Law Minister Jitendra Singh Tomar had resigned after he was arrested on the charge of possessing fake degrees. 
Reacting to the development, Delhi BJP said Kejriwal must resign accepting moral responsibility for picking up the morally corrupt MLA in the Cabinet. 
"He must be rewarded for handing over Delhi's governance to people with corrupt values. This has never happened in any government," said Delhi BJP leader Vijender Gupta. 
DPCC president Ajay Maken too attacked the AAP saying three of the six Ministers who were initially inducted were caught for alleged "Fake degree, corruption, moral turpitude." 
"But who chose them? Why aren't they expelled from Party?," he asked in a tweet. 
Another Congress leader Mukesh Sharma also hit out at AAP and sought the resignation of the Delhi Chief Minister. 
"Prior to this other AAP ministers have also been removed, and now this scandal only shows, that it's the story of Ali Baba and forty thieves, as there are several others in AAP government, against whom cases are due," he alleged. 
"This government is a corrupt and Arvind Kejriwal should immediately resign from his post on moral grounds," he said. 
AAP leader Kumar Vishwas said Sandeep has also sent his resignation. 
"It is the Chief Minister's prerogative who he wants in the Cabinet and who he doesn't. But the party is of the view that such acts cannot be tolerated. We urge other parties also to follow the suit," he told reporters. 
On the allegations that the AAP leadership knew about this video beforehand, Kumar, said, "We received the video today and the decision to sack Sandeep was taken within half-an-hour of receiving the video."