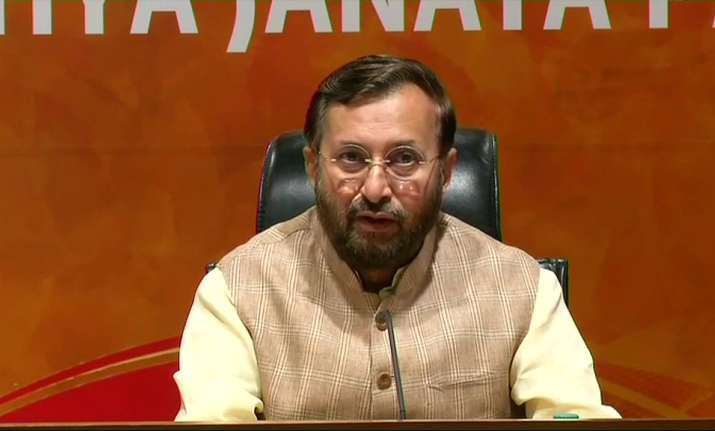 Bharatiya Janata Party (BJP) spokesperson and Union minister Prakash Javadekar on Sunday slammed Congress chief Rahul Gandhi for taking out candle march seeking justice for Kathua rape victim while his own leaders were making controversial statements in the matter. Javadekar claimed that Congress state president GA Mir's comments were similar to BJP ministers who have been sacked. "Why isn't Rahul Gandhi taking action against his own party leader," the BJP leader questioned. 
Addressing a press conference in New Delhi on Sunday, Javadekar said that the Congress leader had claimed that the investigation in the Kathua rape-murder case was politically motivated and that the real culprit was outside the state. 
"BJP leaders who made such statements have resigned, why has Rahul Gandhi stopped short of taking action against his own leaders," he asked.
In a video clip, played by the BJP at the conference, Congress state president Mir can be heard saying: Sidhi si baat hai agar investigation hi motivated hai, (case) ko rafa dafa kerne ke liye toh savalat uthenge. Kahin na kahin kisi ko protection mein liya ja raha hai, idher udhar hath failyae ja rahe hain. Real culprit ko chhod kerke, apna siyasi khata khola ja raha hai. Humne yeh kabhi nai kaha ki hum  bachchi ka insaaf nahin chahte, uska insaaf ho - jo real culprit hai uss tak pahoncho. Iski aad mein agar political score pura ker rhe ho woh galat hai. (It's simple, if the investigation is politically motivated, questions will arise. Somewhere someone is being protected. They are trying to score political points while the real culprit is enjoying freedom somewhere else. We are not saying that girl should not get justice, she should get justice and the real culprit should be punished.)
Two controversial BJP ministers, who participated in a rally in support of the people arrested for the rape-cum-murder of the eight-year-old girl, on Saturday exited from the PDP-BJP alliance government in Jammu and Kashmir. 
Both Lal Singh and Chander Prakash Ganga had participated in the rally on March 1 after the Crime Branch of Jammu and Kashmir Police had arrested the nephew of a caretaker of a 'devisathan' (temple) in connection with the kidnapping and rape of the little girl. 
BJP national general secretary Ram Madhav, who flew in to Jammu yesterday morning, made it clear that there was no attempt to sabotage the investigations as charged by the Congress party. "The charge that the two ministers were pro-rapist is absolutely wrong. It was sheer indiscretion on their part," he said. 
Watch video: Kathua case: Prakash Javadekar slams Rahul for not taking action against Congress state chief