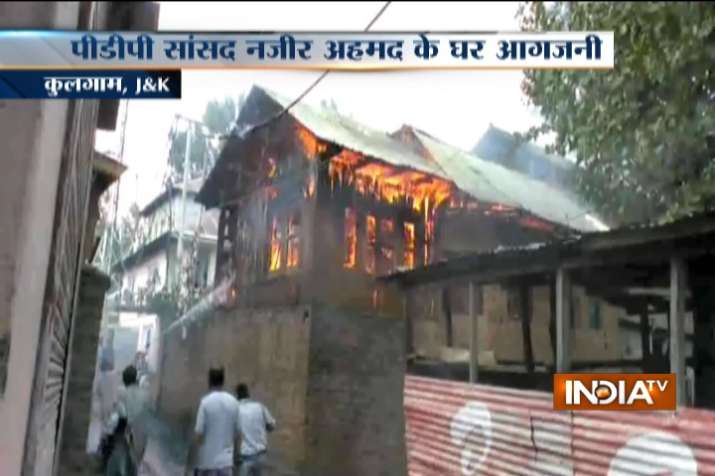 Angry protesters in Jammu and Kashmir's Kulgam district on Wednesday torched the house of Peoples Democratic Party's Rajya Sabha MP Nazir Ahmad. 
Fortunately, nobody was present in the house when it was set on fire by the angry mob in Chawalgam village of the district.
Fire fighters soon arrived at the spot and controlled the blaze but the house had already suffered a massive damage by then. 
Peoples Democratic Party (PDP) currently shares the power in J&K with Bhartiya Janata Party with it leader Mehbooba Mufti as the Chief Minister. 
Violent protests returned on Wednesday after two days of relative peace in the Kashmir Valley that has seen massive protests since the July 8 killing of Hizbul Mujahideen commander Burhan Wani. 
A 15-year-old boy was killed today in clashes between security forces and violent protesters in Sopore area of north Kashmir Baramulla district, taking the death toll in the ongoing unrest in the Valley to 69. 
The fresh clashes occurred even as authorities lifted curfew from all areas of Kashmir today after 53 days. 
"There is no curfew anywhere in Kashmir today. It has been lifted even from the two police station areas in Srinagar - M R Gunj and Nowhatta - the only places in the Valley where the curbs were in place yesterday," a police official said earlier. 
He said the improvement in situation across Kashmir prompted authorities to lift curfew. 
Security forces have been deployed in strength in sensitive areas of the Valley to maintain law and order, the official said. 
However, schools, colleges and other educational institutions and shops remained closed. The attendance in government offices and work in banks has witnessed improvement since Monday, the official said. 
Curfew was clamped in entire Valley on July 9 following violence in the aftermath of killing of Hizbul Mujahideen commander Burhan Wani in an encounter in south Kashmir's Anantnag district a day earlier. 
The separatist camp, which is spearheading the agitation in the Valley, has extended their strike call till September 1. 
Meanwhile, mobile internet continued to remain suspended in the entire Valley, where the outgoing facility on prepaid mobiles remained barred.
Chief Minister had yesterday appealed to students to refrain from stone pelting, and said if they keep indulging in such activities, the state will have no doctors, engineers and teachers in the future. 
"Children have to go to schools, study and come out as doctors, dental surgeons, engineers, teachers". 
"But if they (students) throw stones in protest rallies, we will have no doctors, engineers and teachers in future," Mehbooba said at an event here.
On several occasions, the Chief Minister has blamed separatists for pushing innocent youths into stone pelting while warning them that violence would yield no positive result except to bring more misery for the common man.