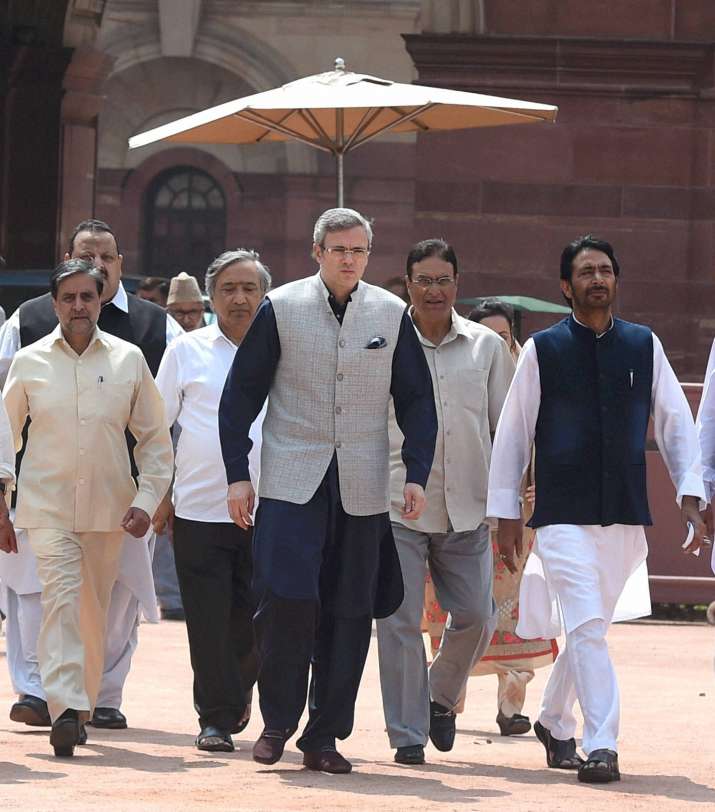 Former Jammu and Kashmir Chief Minister Omar Abdullah today said that Kashmir is facing a political problem that can't be handled administratively.
Leading a delegation of opposition lawmakers from the state to meet President Pranab Mukherjee, Omar said, "The problem in Jammu and Kashmir stems from its polity. It is a political problem. It cannot be handled administratively and not through the use of force. It cannot be handled by creating a humanitarian crisis."
The National Conference leader said the delegation urged the President to use his "good office" to get the union government to acknowledge that "basically the root cause of what is happening today lies in the politics of Jammu and Kashmir and the solution also must be found politically and not administratively".
Abdullah also criticised the ruling BJP-PDP alliance in the state for its handling of the violence in the valley, that was under curfew for the 43rd day on Saturday. 
"Over the last couple of days we have found that an effort is being made to crush the ongoing agitation in Jammu and Kashmir by heaping more misery on the people," he said. 
He said the situation went out of control after the July 8 killing of Hizbul Mujahideen militant Burhan Wani and was "due to our own mistakes". 
Over 60 people have been killed in clashes with security forces since the killing of Wani.
Earlier, Omar led the Jammu and Kashmir MLAs delegation to the President and apprised him of the situation prevailing in the Valley. The delegation also submitted a memorandum to the President.
"Pakistan has been trying to destabilise peace in the Valley for the last 25 years. But if you ask me if the situation created after Wani's killing was due to Pakistan, I will have to say 'no'," the NC leader said. 
He said Pakistan undoubtedly tried to fuel the situation and succeeded too to some extent. "But the immediate turmoil was due to our own mistakes." 
Omar said it is for the first time that the initiatives that should have been taken by the government are being taken by the opposition.
"Whether it be at central level, where if any discussion was initiated in Parliament it was initiated because of the opposition. Similarly if any moves have been made in the state government, it only followed from opposition pressure and not as an initiative of the government," he said.
"The people who today are undergoing the 43rd day of restrictions and curfew are having further restriction placed on them. With the sale of petroleum and other products being banned, with the movements of ambulances the hospitals are being affected, with stringent curfew measures being enforced, all that is happening is that more and more people are being driven out on to the streets and the problem is getting worse," the former Chief Minister added.
(With IANS inputs)