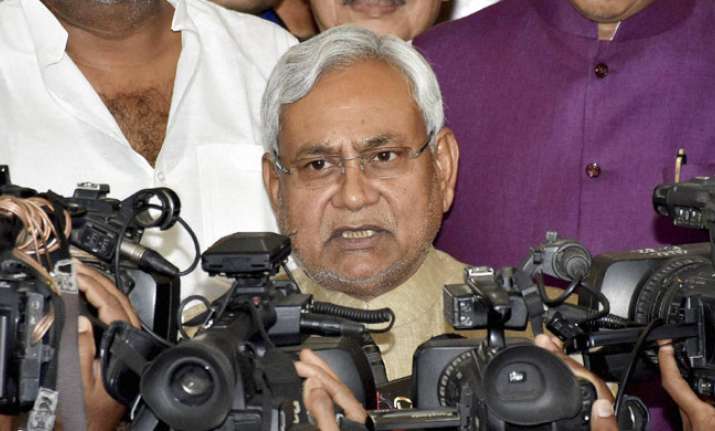 New Delhi: After a failed attempt at unification of the larger Janata Parivar, JD(U), Rashtriya Lok Dal, Jharkhand Vikas Morcha (Prajtantrik) and Samajwadi Janata Party look set to merge in Bihar, Jharkhand and Uttar Pradesh.
Bihar Chief Minister Nitish Kumar, JDU President Sharad Yadav, RLD chief Ajit Singh, his son Jayant Chaudhary and poll strategist Prashant Kishor had a meeting at the residence of JDU general secretary K C Tyagi in the national capital on March 15 to work out the modalities, sources close to the development said.
While Nitish Kumar is in direct talks with with JVM(P) leader and Jharkhand's former chief minister Babulal Marandi, who had parted ways with BJP long back and formed his own outfit, Ajit Singh and K C Tyagi have held several rounds of discussions with Samajwadi Janata Party (Rashtriya) chief Kamal Morarka.
"The four parties can merge together very soon. Talks are in final stages. The date has not been decided but the new party may come into existence this month (March) itself," a source said. The JD(U), which rules Bihar in alliance with Lalu Prasad's RJD, has pockets of influence in the neighbouring Jharkhand.
RLD has been an important player in western Uttar Pradesh, while Samajwadi Janata Party (Rashtriya) formed by former prime minister Chandra Shekhar has little influence in the state after Mulayam Singh Yadav walked out of it and formed Samajwadi Party.
Janata Dal had 22 MPs in Uttar Pradesh in 1991, when Mulayam Singh Yadav and Chandra Shekhar parted ways with V P Singh and formed Samajwadi Janata Party. Since then Janata Dal and later Janata Dal (United) have been on decline there. In 1996, the party headed by Sharad Yadav had 6 MLAs, which came down to two in 2002 Assembly polls.
Buoyed by the victory in Bihar, the party feels it can rejuvenate its moribund unit in Uttar Pradesh in alliance with RLD and other smaller parties. JD(U) has also roped in Peace Party, which has some presence in eastern UP, mainly in areas around Grouper.
Peace Party Chief chief Sub Andrei had also met Nourish Kumar and JD(U) general secretary K C Tyagi to discuss the issue. While JD(U) lacks a cadre base in ITT Pradesh and can hope to gain from alliance with regional parties like RLD and Peace Party, Nitish Kumar's persona could help these parties in cementing their vote base.